Free personalized radio that
plays the music you love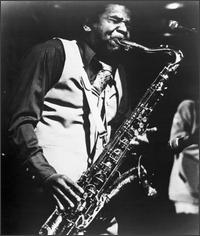 People who also like this
Jr. Walker & The All Stars
Motown's skilled but mostly anonymous instrumentalists very rarely stepped out on their own. The lone exception to the rule was tenor saxman Junior Walker, whose rough-and-ready, old-school R&B was a marked contrast with the label's typically smooth, polished product. Walker's squealing gutbucket style was inspired by jump blues and early R&B, particularly players like
Louis Jordan
,
Earl Bostic
, and
Illinois Jacquet
. Possessed of a raspy, untrained voice, Walker's singing nonetheless complemented the energy of his sax playing, and he cut a wealth of danceable, party hearty R&B for Motown during his heyday in the second half of the '60s.
Walker was born Autry DeWalt II on June 14, 1931 (even though Motown gave his birth date as 1942), in Blytheville, AR. (Some accounts list his birth name as Oscar G. Mixon, which was then changed at some point during his early childhood.) DeWalt grew up in South Bend, IN, and began playing the saxophone in high school; he was soon performing in local jazz and R&B clubs with his first band, the Jumping Jacks, under the name Junior Walker. He next joined a trio led by drummer Billy "Stix" Nicks, which also featured organist Fred Patton; they soon added backing vocalist and guitarist Willie Woods, and played around northern Indiana and southern Michigan. Walker took over the group after Nicks joined the Army; in the late '50s, he relocated to Battle Creek, MI, and formed a band billed as Junior Walker & the All-Stars. Initially, they featured Patton, Woods, and drummer Tony Washington; Patton was later replaced by Victor Thomas, and Washington by Jack Douglas and, finally, James Graves. The All-Stars continued to play around the area, and took up a residency in Battle Creek's El Grotto club. There they were discovered by singer
Johnny Bristol
, who recommended them to his friend, ex-
Moonglow
Harvey Fuqua. Fuqua signed the group to his Harvey label in 1961; they made their first recordings in 1962, and the following year Fuqua's labels were absorbed by Motown.
Walker & the All-Stars ended up on their Soul subsidiary, debuting for the label in 1964. In early 1965, they scored their first big hit with the dance tune "Shotgun," which marked Walker's vocal debut; in fact, the only reason he sang the song was that the vocalist he'd hired didn't show up for the session, and he was somewhat flabbergasted by the label's decision to leave his vocal intact. Berry Gordy's instincts proved right, however, when "Shotgun" topped the R&B charts and hit the pop Top Five. A steady stream of mostly instrumental R&B chart hits followed, including "Do the Boomerang," "Shake and Fingerpop," and "How Sweet It Is (To Be Loved by You)" (Walker was, naturally, encouraged to record instrumental versions of Motown hits). In 1966, Graves left and was replaced by old cohort Billy "Stix" Nicks, and Walker's hits continued apace with tunes like "I'm a Road Runner" and "Pucker Up Buttercup." Toward the end of the '60s, seeking to diversify their approach, the All-Stars began recording more ballad material, complete with string arrangements and Walker vocals. That approach resulted in the group's second Top Five pop hit, the R&B number one "What Does It Take (To Win Your Love)," which helped refuel Walker's career. He landed several more R&B Top Ten hits over the next few years, with the last coming in 1972.
Walker resurfaced as a solo artist during the disco era, working with producer Brian Holland beginning in 1976 with the single "Hot Shot"; a pair of albums followed. In 1979, Walker joined up with another former Motown mainstay in 1979, signing with producer Norman Whitfield's Whitfield label, though without much success. Walker returned to the spotlight in 1981 with a well-publicized (and well-executed) guest solo on
Foreigner
's Top Five hit "Urgent." Two years later, he re-signed with Motown and recorded Blow the House Down; by that time, his melodic style was being absorbed into a new generation of R&B-flavored jazz instrumentalists. Walker continued to tour through the '80s and '90s, sometimes with his son Autry DeWalt III playing drums. Unfortunately, in 1993 his activities were severely curtailed by cancer, which claimed his life on November 23, 1995. In the wake of his death, Billy "Stix" Nicks continued to tour with a version of the All-Stars. ~ Steve Huey, Rovi
full bio
Selected Discography
Similar Artists
Don't have a Pandora account? Sign up
Already have a Pandora account? Log In