Free personalized radio that
plays the music you love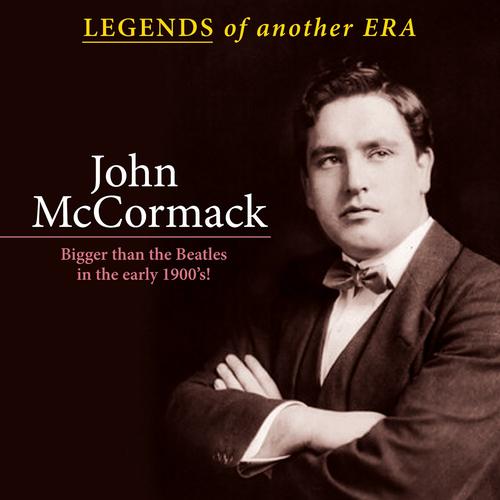 People who also like this
Irish-born American tenor John McCormack, who sang both popular and classical works, was one of the most successful live musical performers of the 1910s, 1920s, and 1930s, regularly selling out concerts in the biggest halls around the world, as well as being a top recording artist. The 600-plus sides he recorded, primarily for Victor Records, between 1904 and 1942 are estimated to have sold upward of 200 million copies. Chart researcher Joel Whitburn, in his book of chart approximations, Pop Memories 1890-1954, ranks McCormack 23rd among the top artists of the 64-year period, giving him seventh place for the decade 1910-1919, and his recording of the World War I anthem "It's a Long, Long Way to Tipperary" is listed as the tenth most successful recording of that decade.
McCormack was born in Athlone, Ireland, on June 14, 1884, the son of mill laborer Andrew McCormack and Hannah (Watson) McCormack. At the age of 12 in 1896, he won a scholarship to Summerhill College in Sligo, and he attended the school until 1902, when he graduated at 18. Already intent upon a singing career, he accepted a place in the Palestrina Choir of Dublin's Pro-Cathedral, where he was encouraged by the choir-master. In 1903 he entered a competition in the Feis Ceoil, the Irish National Music Festival, and won the gold medal for tenor. In 1904 he went to America for the first time and sang at the St. Louis World's Fair. The same year he traveled to London where he made his first recordings for the Edison, Edison Bell, and Gramophone & Typewriter (G&T) labels. Meanwhile, a friend had written on his behalf to the Italian singing instructor Vincenzo Sabatini, and Sabatini agreed to accept him as a pupil. He left for Milan to study with Sabatini early in 1905 and spent much of the year there. By the following winter, Sabatini judged him ready to perform, and he made his operatic debut on January 13, 1906, with the Teatro Chiabrero company in Savona in L'Amico Fritz. Returning to Great Britain, he settled in London, where he found singing engagements and signed a six-year contract with Odeon Records. It has sometimes been suggested that, over the course of his career, he moved from primarily a classical to primarily a popular repertoire, but biographer Gordon T. Ledbetter, in his book The Great Irish Tenor, points out that even at this early point McCormack's recordings were a mixture of material, with the greatest share of it being the Irish ballads for which he was best known.
McCormack was engaged by the Royal Opera in 1907, making his debut at Covent Garden on October 15, 1907, as Turiddu in Cavalleria Rusticana. At 23, he was the youngest tenor ever to sing a major role with the opera company. As of 1908, he moved to the more prestigious summer season schedule, and he continued to perform at Covent Garden until the opera closed temporarily at the start of World War I in 1914. That made it possible in 1909 for him to accept an offer of a three-year contract from American impresario Oscar Hammerstein (grandfather of the Broadway lyricist/librettist Oscar Hammerstein II) to join his Manhattan Opera Company, a rival to the Metropolitan Opera in New York. McCormack made his debut at the Manhattan Opera House on November 10, 1909, in Traviata. Eight days later, he made his U.S. concert debut at the same location. The following year, Hammerstein sold out to the Metropolitan, which converted the Manhattan Opera Company into the Philadelphia-Chicago Opera Company, playing in those two cities and on the road. McCormack fulfilled his contract with performances around the U.S., and he also debuted at the Metropolitan itself in New York on November 29, 1910.
Meanwhile, on February 10, 1910, Victor Records had bought out McCormack's Odeon contract for 2,000 pounds and offered him a generous new long-term deal to run 28 years, with a 10,000 dollar advance and a royalty of 10 percent of his records' list price. The company began making its money back immediately. By Whitburn's estimate, McCormack had five hits in 1910, starting with a re-recording of the Irish ballad "Killarney" in May. There were five more in 1911, among them two that Whitburn estimates would have ranked as number one hits if there actually had been charts at the time, "I'm Falling in Love With Someone" from Victor Herbert's Broadway operetta Naughty Marietta and "Mother Machree" from Chauncey Olcott's Broadway musical Barry of Ballymore.
In the fall of 1911, McCormack toured Australia performing opera, but when he returned to the U.S. in early 1912, he announced his intention to focus primarily on concert work. In a later interview, he said, "I am the world's worst actor," concurring with reviewers who praised his opera singing but criticized his acting. Of course, many opera singers are poor actors, but McCormack clearly did not enjoy performing in opera, preferring to appear alone and as himself before an audience. This is what he began to do, giving 34 concerts in America before returning to Covent Garden for the summer season. During the 1912-1913 season, he gave 67 concerts, while also appearing in 12 operas and, according to Whitburn, scoring another five record hits. Then it was back to London for the summer season, a concert tour of Australia, and another U.S. tour beginning in October and running through March 1914.
This busy, peripatetic schedule became only more extensive in the next few years: 95 concerts in the 1914-1915 season; 85 (plus two operas) in 1915-1916; approximately 80 in 1916-1917; 88 (plus five operas) in 1917-1918; and approximately 90 (plus two operas) in 1918-1919 (all this at a time when commercial air travel and the interstate highway system lay far in the future). It would be hard to overestimate McCormack's popularity in this period, before the advent of radio and television networks, when performers worked without amplification. McCormack filled theaters such as New York's 5,000-seat Hippodrome to overcapacity, with an extra 1,000 seats sold surrounding him and his piano accompanist on-stage and 1,000 standing-room patrons, sometimes for several concerts in a season. At the same time, his recordings continued to sell well. By Whitburn's estimate, there were six hits in 1914; seven in 1915, including "It's a Long, Long Way to Tipperary," which was the biggest hit of the year; seven in 1916, including two, "Somewhere a Voice Is Calling" and "The Sunshine of Your Smile," at number one; seven in 1917, with two more number ones, "The Star-Spangled Banner" (in the wake of U.S. entry into World War I that spring) and "Send Me Away With a Smile"; four in 1918; and another four in 1919. It has been estimated that his income in 1918 alone was 300,000 dollars (an amount that would equate to more than 3.5 million dollars in 2003 dollars).
In April 1914, McCormack had filed papers to become an American citizen. He was naturalized in June 1919. Except for a throat infection that sidelined him from the spring to fall of 1922, he maintained his busy schedule of performing and recording through the first half of the 1920s, eventually giving up performing opera completely in 1923. This, too, fueled the notion that he had moved from classical music to pop, but Ledbetter notes that he continued to sing plenty of "serious" music in his concerts, while his recordings leaned much more toward popular songs. That kept his sales up; Whitburn lists another 23 hits during the '20s, including a number one with Irving Berlin's "All Alone," which McCormack introduced in a radio tribute to the songwriter in 1924.
As of the 1925-1926 season, McCormack cut back to about 50 concerts a year, but he continued to travel extensively, for instance going to Japan and China in 1926. In 1929, eight weeks' work in Hollywood earned him half a million dollars for starring in his first feature film, Song o' My Heart. (He appeared in only one other movie, 1937's Wings of the Morning, the first Technicolor film made in England.) By the 1930s, with his voice deteriorating, he began to work less, and he announced his retirement from performing at a concert in Buffalo, NY, in March 1937, although he later undertook a British tour that lasted until November 27, 1938. Less than a year after that, he was back on tour to raise money for the Red Cross in the early days of World War II, giving a final performance on May 5, 1940. Even then, he continued to record, cutting his last session on September 10, 1942, before retiring to his estate outside Dublin. He died there of pneumonia at 61 on September 16, 1945.
Despite the enormous popularity he enjoyed during his performing career, McCormack suffered critically due to his refusal to be either exclusively a classical or popular artist. He was what in a later era would be called a "classical crossover" artist, and that tended to mean that classical music fans rejected him as a turncoat, while popular music fans, especially later in his career and after his death, found him much more formal than, say,
Bing Crosby
, and thus not really a pop artist at all. (It didn't help that much of his "popular" repertoire of sentimental ballads, operetta, and art songs, drifted into the classical repertoire over time.) Also, with most of his best recordings dating from the largely neglected pre-1925 "acoustic era" of recording, his records have not stayed in print as much as those of performers who peaked commercially a decade or two later. Nevertheless, in the CD era, there have been many collections which demonstrate the same qualities that the judges at the Feis Ceoil first heard back in 1903, an amazing expression of feeling and purity of tone in a voice that generations have found unforgettable. ~ William Ruhlmann
full bio
Selected Discography
Similar Artists
Don't have a Pandora account? Sign up
Already have a Pandora account? Log In