Free personalized radio that
plays the music you love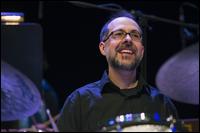 People who also like this
John Hollenbeck Large Ensemble
Best known for helming the Claudia Quintet and John Hollenbeck Large Ensemble, as well as his sideman contributions to the work of numerous other artists, John Hollenbeck has shown himself to be an intuitive and far-reaching drummer, percussionist, composer, and group leader. Born in Binghamton, New York and a resident of New York City, Hollenbeck studied with trombonist/pianist/bandleader
Bob Brookmeyer
and was a member of
Brookmeyer
's New Art Orchestra before becoming associated with the downtown Manhattan music scene.
Like other artists who emerged from that community of musicians, his perspective is without boundaries; Hollenbeck draws from modern creative and avant-garde jazz, but his music also touches on elements of modern composition, including post-minimalism. The long list of people Hollenbeck played and recorded with in the '90s and into the new millennium underscores his versatility and broad-mindedness; that list ranges from frequent collaborator singer
Theo Bleckmann
to performance artist
Meredith Monk
, pianist
Fred Hersch
, trumpeter Cuong Vu, trombonist
Curtis Hasselbring
, keyboardist Gary Versace, clarinetist
David Krakauer
's Klezmer Madness!, and a group led by trumpeter
Frank London
(a founding member of
the Klezmatics
).
After appearing as a sideman on various jazz and avant recordings, Hollenbeck began to build a catalog of his own in 2001 when he issued three albums on Blueshift/CRI: No Images, The Claudia Quintet, and Quartet Lucy. The Claudia Quintet, initially featuring a lineup of Hollenbeck joined by
Chris Speed
on tenor sax and clarinet, Matt Moran on vibes,
Ted Reichman
on accordion, and
Drew Gress
on acoustic bass, would prove to be his most longstanding working band of the new millennium. After the arrival of the group's eponymous Blueshift/CRI debut, the Claudia Quintet was signed by the Cuneiform label, which released the band's I, Claudia (2004); Semi-Formal (2005); For (2007); Royal Toast (2010), featuring special guest Versace on piano; What Is the Beautiful? (2011), with the quintet supplemented by pianist
Matt Mitchell
and featuring poetry of
Kenneth Patchen
sung by vocalists
Theo Bleckmann
and
Kurt Elling
; and September (2013), in which Red Wierenga replaced
Reichman
on accordion and the bass duties were split between
Gress
and Chris Tordini.
The new millennium also saw Hollenbeck receiving wide recognition for his work with modern creative and experimental big bands, including his own John Hollenbeck Large Ensemble, which released A Blessing on Omnitone in 2005 and Eternal Interlude on Sunnyside in 2009, both of which received Grammy nominations for Best Large Ensemble Jazz Album. He also worked with a pair of European outfits: Jazz Bigband Graz, with which he recorded Joys & Desires, released by Intuition in 2005; and the Frankfurt Radio Bigband, which commissioned his Songs I Like a Lot project, heard on the 2013 Sunnyside album of the same name, followed by 2015's Songs We Like a Lot (also on Sunnyside), which arrived in 2015. Hollenbeck's Grammy recognition also includes a 2010 nomination (Best Instrumental Composition) for "Falling Men," which appeared on that year's Bee Jazz label release Shut Up and Dance, an album of his compositions recorded by France's
Orchestre National de Jazz
under the artistic direction of Daniel Yvinec, and a 2013 nomination (Best Instrumental Arrangement Accompanying Vocalist[s]) for "The Moon's a Harsh Mistress" from Songs I Like a Lot. ~ Alex Henderson & Dave Lynch, Rovi
full bio
Similar Artists
Don't have a Pandora account? Sign up
Already have a Pandora account? Log In