Free personalized radio that
plays the music you love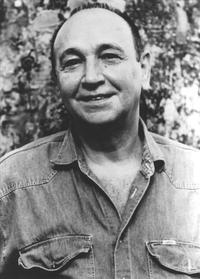 People who also like this
João Donato started his recording career at 15, already a challenging task in an association with a great master,
Altamiro Carrilho
. He also recorded with Bud Schank,
Ron Carter
,
Airto Moreira
, Elmir Deodato,
Randy Brecker
,
Ray Barretto
,
Mongo Santamaria
,
Tito Puente
,
Astrud Gilberto
,
Cal Tjader
, and several others, along with many important Brazilian musicians, including
Johnny Alf
and Tom Jobim. His solo career is registered with 29 albums recorded since 1953. A major figure as a musician and arranger in the bossa nova movement, he is profoundly influential, having inspired generations of players. João Gilberto confessed to have taken his bossa nova beat at the violão from Donato's piano playing. He is generally perceived as a crazy and detached genius; maybe he is a little of each.
He started making music very early and soon he was already animating dance parties with his accordion. His first music notions were given by a sergeant of Acre's Military Band. At 11, he moved to Rio and studied piano with professor Werther. At 15, he was already a professional accordion musician, playing at suburban balls. His first recording dates back from that period, a 78 rpm for the Star label with Altamiro Carrilho e Seu Regional, although the label omits Donato's credits. He also performed, at that time, continuing for nine years, at the jam sessions of the seminal amateur jazz circle Sinatra-Farney Fan Club in Rio, which gathered people who would be important jazz musicians, producers, and journalists in Brazil. At 17, he was hired by Rádio Guanabara as a sideman on the Zé do Norte show, working there for two years. In 1952, he was hired by the great violinist Fafá Lemos to play in his group, which was performing at the Monte Carlo nightclub. He also played at several other nightclubs which brought together Rio's good musicians, at places such as Sacha's, Drink's, Bon Gourmet, and, most importantly, Plaza, where bossa nova was born. His first solo album, a 78 rpm for Sinter, was entitled João Donato e seu Conjunto, and was released in April 1953, containing "Tenderly" and "Invitation." In May of that year, he recorded, under the same title, another 78 rpm for the same label. In July, he recorded with the vocal and instrumental group Os Namorados for a 78 rpm with the songs "Eu Quero Um Samba" (Haroldo Barbosa/Janet de Almeida), later recorded solo by João Gilberto, and "Três Ave-Marias" (Hanibal Cruz). He also recorded two other albums with Os Namorados, always for Sinter, in October 1953 and January 1954. The group Os Namorados was the same as Os Namorados da Lua, without Lúcio Alves. When Alves departed for a solo career, he prohibited his old bandmates from using the old name, as he wanted to reserve it for future projects. Donato also worked for the Garotos da Lua vocal group. They were hired by Rádio Tupi. Donato was the group's pianist and arranger and João Gilberto joined them in 1949, subbing for crooner Jonas Silva. Their strong friendship began before they even met: before leaving Bahia, someone said to João Gilberto that he was going to meet a guy "exactly like him." At the same time, Donato was told that the forthcoming crooner was very much alike him. When they met, they only said to each other "That's true!," leaving bystanders to wonder what was going on. Numerous eccentric anecdotes of both idiosyncratic musicians date from that period. Later, they would move to Luiz Teles' (from the Quitandinha Serenaders group) apartment, and live there for a while. Gilberto recorded two albums with the Garotos da Lua in July and November 1951. Soon after, Gilberto was fired from the group by Rádio Tupi's artistic direction as "too bad a crooner." In 1954, Donato recorded another 78 rpm for Sinter. In 1956, in spite of hating the cold weather of the city of São Paulo, Donato moved there, joining the group Os Copacabanas and the Luís César Orchestra, alongside his own group. He recorded another solo album, now with this group, for Odeon in March 1956. In the same year and on the same label, he recorded Chá Dançante, produced by Tom Jobim. In 1958, he composed his first hit, "Minha Saudade," with Gilberto. At that time, Donato was playing at the Copacabana Palace with the orchestra of Copinha (fined every two days for being late everyday), and Gilberto used to go there often to chat with Donato during the orchestra's breaks (when
Dick Farney
's group performed). Donato said in an interview in the '70s that Gilberto confessed to him that he, Donato, was the inspirer of Gilberto's bossa nova beat at the violão. Maestro Gaya also said that. Also in 1958, he recorded on his LP Dance Conosco (Copacabana) two partnerships with Gilberto: the mambo "Mambinho" and the samba "Minha Saudade."
In 1959, he was being rejected by all nightclubs. Ahead of its time, his modern swinging piano was too strong rhythmically and excessively difficult to follow by other musicians, and customers complained about it as not danceable. He ran out of gigs and used to ask all nightclubs' owners to play for free, just to be available for anyone interested. Even then, he was only allowed to play after 4:00 a.m., when most customers were gone. His situation was so bad, he decided to move away from Brazil. His friend Nanai, having toured Mexico with the great singer Elizete Cardoso, settled in the U.S. and telegraphed Donato, inviting him to a two-week season there. Donato went and ended up residing in the U.S. for 14 years. Very requested by Latin artists, he recorded Arriba! for
Mongo Santamaria
(Fantasy 1961), Vaya Puente for
Tito Puente
(Philips 1962), At the Black Hawk for
Santamaria
(Fantasy 1962), The Astrud Gilberto Album for
Astrud Gilberto
(Elenco 1964, released in the U.S. through Verve, Silver Collection 1991), Shadow of Your Smile for
Astrud Gilberto
(Verve 1965), Brazil! Brazil! Brazil! for Bud Shank (World Pacific 1967), Solar Heat for
Cal Tjader
(Skye 1968), and Prophet for
Cal Tjader
(Verve 1969). Given the long years they worked together in Rio, and also that they were longtime friends, Donato and Brazilian drummer
Milton Banana
developed a rare symbiosis, each one rhythmically complementing the other's ideas. Banana was the first musician to develop a proper bossa nova drum beat, with brushes over a cloth and stick at the snare's rim. His sound was so distinctive that it was copied by many musicians and most bossa nova recordings bring that drum sound. After the historic concert at Carnegie Hall, in which Donato didn't participate, Donato and
Milton Banana
accompanied Gilberto on a tour through Italy, where they worked for six weeks. In spite of being harassed by more people interested in contracting him than he could handle, Gilberto alleged a pain in his finger which impeded him of playing, and they stopped everything to wait for his recovery. Believing that only one person in the world could cure him, Gilberto went to Paris, France, to meet Dr. Zapalla, who had been Brazilian soccer player Pelé's acupuncturist. After four weeks waiting in vain and not receiving any money, Donato and
Milton
departed from Europe. Donato came back to Brazil. In 1962, Polydor recorded the LP Muito à Vontade, with his compositions. This LP was reissued later by Polyfar and in CD format by Pacific Jazz Japan. At the same time, he recorded through Polydor A Bossa Muito Moderna de Donato e seu Trio and it was released the next year. He just finished the two albums and returned to the U.S. In 1965, with Brazilian violonista/composer/singer Rosinha de Valença, he recorded for Bud Schank Bud Shank & His Brazilian Friends for Elenco, also reissued by Polydor and Toshiba EMI Japan. In the same year, he recorded for RCA Victor USA Piano of Joao Donato -- The New Sound of Brasil. His compositions "Amazonas" (recorded by
Chris Montez
), "A Rã," and "Caranguejo" (both recorded by Sérgio Mendes), all were big hits, receiving other interpretations by several artists. In 1969, he recorded for Muse (which released it in 1973) Donato/Deodato, a classic album where Latin jazz meets bossa nova. It was followed by A Bad Donato (Blue Thumb 1970) with
Ron Carter
. Returning to Brazil in 1972, the next year he recorded for Odeon Quem é Quem. In 1974, he directed
Gal Costa
's show Cantar, recorded live and released with Costa singing a couple of Donato's songs, one with
Caetano Veloso
. In 1975, Donato recorded Lugar Comum for Philips and in 1986, his live show at the People's nightclub was released by Elektra Musician as Leilíadas. In 1996, he recorded for Odeon Coisas tão Simples and in 1997, Café com Pão -- João Donato & Eloir de Morais with the Brazilian drummer. He also composed, together with
Gilberto Gil
, "Lugar Comum" (1974), "Bananeira," "Emoriô," and "Tudo Tem" (all in 1975). ~ Alvaro Neder
full bio
Selected Discography
Similar Artists
Don't have a Pandora account? Sign up
Already have a Pandora account? Log In