Free personalized radio that
plays the music you love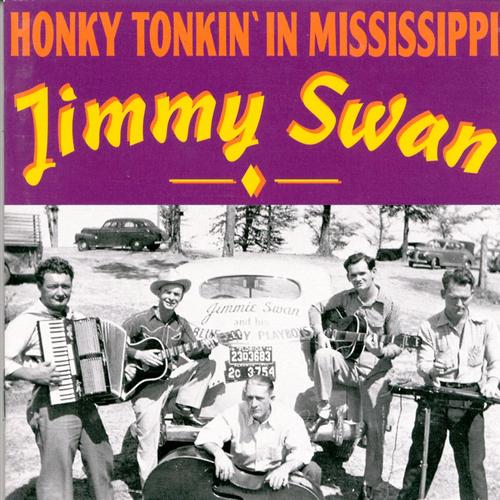 People who also like this
Jimmy Swan rose from dirt farmer's son to bandleader, giving jobs to
Hank Locklin
and
Hank Williams
in the bargain. At one point, Swan was seen as a potential successor to
Williams
, but his musical sensibilities, spawned in Birmingham, AL, before World War II and at the honky tonks around Hattiesburg, MS, immediately after the war, failed to match the public's changing taste. As a hillbilly and honky tonk singer, he was initially one of the very few white artists on the tiny Trumpet label (best remembered as the early recording home of
Sonny Boy Williamson II
), where he had some success in the early '50s, but he later found his music too out of style to sell in serious numbers.
Swan was born into a farm family, but his father abandoned them before he was old enough to walk, and he was raised in Birmingham, AL, where he sold newspapers and shone shoes on the street to help make ends meet, living at near-starvation level after the death of his mother in the late '20s. Among his clientele during the shoe-shining phase of his life was
Jimmie Rodgers
, the Singing Brakeman, whom the young Swan encountered in a pool hall, and who also influenced Swan as an aspiring singer. By 1928, when the 15 year old won a singing contest at a local radio station, he began thinking that he might have a future in music.
Swan ended up living the life of a hobo when things got really bad, riding the rails and ending up in Mississippi just about the time that the stock market crash of 1929 ushered in the Great Depression. By then he was 17, married, and working on various farms -- this and the birth of several children was to keep him out of music professionally until early in the 1940s, when he formed his own band. By that time he was living near Mobile, and the guitarist he chose for that first band in 1944 was another Alabama shipyard worker named
Hank Locklin
. Swan also occasionally availed himself of the services of another guitarist with a future as a singer,
Hank Williams
, who was knocking around Mobile at the time.
After World War II, living in Hattiesburg, MS, Swan got regular radio gigs on several stations, weeknight shows at various honky tonks, and Saturday night shows at the Hattiesburg Civic Center. By 1948, however, he'd given up music because he didn't like playing the honky tonks and witnessing their drunkenness and violence, and instead became a radio disc jockey. Apart from his Saturday night shows at the Civic Center, he left music and didn't return full-time until 1952, when Swan become one of a tiny handful of white artists signed to Lillian McMurry's Trumpet Records label.
Swan's first record, the hillbilly ballad "I Had a Dream," was a reasonable success nationally, eliciting covers by several other singers. He also saw some sales in early 1953 with "The Last Letter," a
Williams
tribute song issued in the wake of the country legend's death that New Year's Day. Suddenly, Swan was in demand over at MGM as a potential successor to
Williams
, but his contract at Trumpet prevented this hookup with the late singer's label from happening for several years. In the interim, he kept making records for McMurry and even managed an appearance in a low-budget 1954 color Western Jesse James' Women, starring (and directed by) Don Barry and Peggy Castle, which was shot on location in Mississippi.
By the mid-'50s, when he was finally in the hands of MGM, however, Swan found that the label was looking for a sound different from the one that he was interested in making. The public had started abandoning the hard-country, hillbilly sound that he favored and was buying more lushly produced pop-oriented records.
Locklin
, who'd begun a recording career of his own in 1948, was to find success with this softer sound. Swan, however, wanted no part of anything that didn't sound like he did when he played on stage, and he was enough his own man to reject this for himself. He was still doing hillbilly-type music late in the 1950s, and even into the mid-'60s, he was making records that could have come out of the 1940s.
By then, Swan had various business ventures working for him, including part-ownership of a radio station, and was becoming concerned with matters beyond music. As a white Southerner born early in the 20th century, he'd never accepted the notion of big government as espoused by the Democratic Party, at least in the absence of a crisis on the scale of the Great Depression, or the liberal social policies that increasingly drove the National Party. Swan had already run for sheriff locally in Hattiesburg in the mid-'60s. In 1966, seeking to emulate country singer-turned-Louisiana governor
Jimmie Davis
, and anticipating a similar effort by
Tex Ritter
, Swan entered statewide politics, standing for governor of Mississippi as an opponent of President Lyndon Johnson's Great Society program. He lost, coming in third in the primary, and failed in his subsequent bids for elective office.
By that time, he was retired permanently from music as well, having recorded two abortive sides for a small Mississippi-based label. His music was largely forgotten by then, being hopelessly out of style in the slick, Nashville-dominated world of modern country music. In 1993, nearly 25 years after Swan's retirement from music, Bear Family issued the first comprehensive collection of his music. ~ Bruce Eder
full bio
Selected Discography
Similar Artists
Don't have a Pandora account? Sign up
Already have a Pandora account? Log In