We created Pandora to put the Music Genome Project directly in your hands
It's a new kind of radio –
stations that play only music you like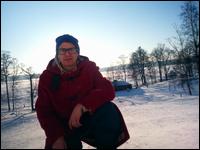 People who also like this
Best described as techno's first cabaret star, Finland native Jimi Tenor is what you might imagine Detroit's answer to a cheesy lounge artist would be. Coming off as a kind of lo-fi
Prince
cross-bred with
Maurizio
, Atom Heart, and perhaps
Jean-Jacques Perrey
, Tenor's recordings are released through Sähkö/Puu (home to most of the scant Finnish techno scene); despite the fact that they stick out of the label roster like a sore thumb, they have attracted something of a devoted cult following, mainly among the IDM/electronica crowds. Unlike most electronica artists, however, who routinely name-check
Kraftwerk
, Juan Atkins, and
Carl Craig
as influences, Tenor leans more toward names like
Barry White
,
Isaac Hayes
, and '70s B-movie and blaxploitation soundtracks. Classically trained, Tenor gained the attention of influential Sheffield label Warp after releasing the full-length
Europa
in 1996, leading to a recording deal and reissue plans for some of Tenor's Sähkö releases. Warp featured the previously unavailable Tenor cut "Downtown" on their Blechsdottir label comp and released the 7"/CD single "Can't Stay with You Baby" a few months later, with two additional singles appearing in early 1997.
Prior to his solo work, Tenor fronted Jimi Tenor & His Shamans, who in 1988 starting releasing several albums on the Poko, Euros, and Bad Vugum labels (including Total Capacity of 216, 5 Litres, Diktafon, and Fear of a Black Jesus, which included a 3-D sleeve and glasses). Despite the studied imperfection of his recordings (Tenor chides modern electronic music for sounding lifelessly exacting), he spent 12 years studying piano, flute, and saxophone at a Finnish music institute. After dissolving the Shamans in the late '80s, Tenor moved to New York, where he worked as a tourist photographer at the Empire State Building. He finally hooked up with Sähkö after receiving a copy of a solo recording by
Mika Vainio
(of
Pan Sonic
and Ø). Impressed with the label's openness to experimentalism (Sähkö had previously been known as something of the muso's minimalist techno label), Tenor sent along some tapes and landed a recording contract, releasing his debut, Sahkomies, in 1994. While in New York he also recorded with
Khan
/4E's Can Oral (under the name Bizz O.D.), releasing the "Traffic" single on Ozon in 1995. Tenor returned to Finland in 1995 to film a documentary of Sähkö (funded, oddly enough, by a government grant) and has remained there since, releasing
Europa
in 1996 and securing licensing and recording arrangements with Warp. The full-length Intervision was released in 1997, followed two years later by Organism.
After the release of Out of Nowhere in 2000, Tenor and Sähkö parted ways with Warp. His sixth full-length, Utopian Dream, an overtly solo electronics record, still received import distribution. Tenor was performing with a large band for 2004's Beyond the Stars, distributed widely through Kitty-Yo, and 2007's Joystone with his backing unit Kabu Kabu. The combination also paired for 2009's 4th Dimension. In 2010, Tenor and Afro-beat drum legend
Tony Allen
collaborated on a volume in Strut's excellent Inspiration Information series. Itetune, a collaboration with Ethiopian percussionist Abdissa "Mamba" Assefa, appeared in 2011. In February of 2012, the first exhibition of Tenor's photographs were shown at the Kingi Kongi Gallery in Helsinki, followed by his first feature film,
Sähkö
, which debuted in Berlin. He capped the eventful year by releasing The Mystery of Aether with Kabu Kabu for Kindred Spirits. ~ Sean Cooper & John Bush, Rovi
full bio
Similar Artists