Free personalized radio that
plays the music you love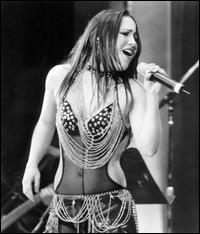 People who also like this
For the first phase of her career, Jennifer Peña was constantly compared to
Selena
, with whom she had professional ties, but with time she came into her own stylistically and became one of the more accomplished young singers in popular Latin music. Peña's ties to
Selena
go back to 1995, when she performed on-stage at the latter's Houston Astrodome tribute concert. This was the performance that launched Peña's career, as she subsequently was taken under the wing of
Selena
's family,
the Quintanillas
, who would manage and produce her EMI Latin recordings as part of the tejano group Jennifer y los Jetz. As part of this group, Peña, barely a teenager at the time, enjoyed a favorable amount of success on the regional Mexican circuit with hits like "Ven a Mi," "Tengo Miedo," and "Abrázame y Bésame." When she turned 18, she signed a new recording contract and embarked on a solo career with Univision as a Latin pop singer, beginning with Libre (2002). Peña shot to fame at this point, as her debut solo single, "El Dolor de Tu Presencia," spent eight straight weeks atop the Hot Latin Tracks chart. Her second album, Seducción (2004), followed suit with another chart-topping ballad, "Vivo y Muero en Tu Piel." Both of these albums were number ones, each selling over 300,000 units. Peña's career took a slight turn in the years that followed. She entered the world of film, for instance, and dated fellow Latin pop star
Obie Bermúdez
, with whom she co-wrote her third album, Dicen Que el Tiempo (2007), which she also co-produced.
Born on September 17, 1983, in San Antonio and raised in Corpus Christi, Jennifer Marcella Peña Cantú began her professional career at age 11, when she performed on-stage at a
Selena
tribute concert held at the Houston Astrodome. Her recording career commenced only a year later with Dulzura (1996), after she'd signed a management deal with
Selena
's father, Abraham Quintanilla, Jr. (i.e., Q Productions), and a recording contract with EMI Latin,
Selena
's former label. Produced by
Selena
's brother,
Abraham Quintanilla III
, aka
A.B. Quintanilla
of Los Kumbia Kings fame, the album was fairly successful, spawning a pair of hits, "Pura Dulzura" and "Ven a Mi." The Quintanillas shaped Peña into a younger version of
Selena
, whom they'd likewise managed and produced: Jennifer y los Jetz, as she was billed, purposefully resembled Selena y los Dinos, as did the group's music, which was a sugar-coated mix of tejano, cumbia, and ballads. A few more Jennifer y los Jetz albums followed, each produced by
Quintanilla III
: Jennifer y los Jetz (1997), Mariposa (1998), and Abrázame y Bésame (2000). The former two featured a few minor hits ("Tu Castigo," "Cosquillitas," "Tengo Miedo"), whereas the latter became a major success. Essentially an album by
Quintanilla III
's group, Los Kumbia Kings, with Peña as the frontwoman, Abrázame y Bésame boasted a string of hits ("Abrázame y Bésame," "Si Tú Te Vas," "Contigo Otra Vez," "No Te Voy a Perdonar") and was nominated for a Grammy (Best Regional Mexican Performance).
At this point, with her future never brighter, Peña split from
the Quintanillas
and pursued a solo career. She signed a new recording contract, this one with Hispanic media giant Univision, and when she made her label debut, Libre (2002), the title spoke volumes. Free of her former handlers as well as the stylistic confines of tejano, Peña was teamed with Latin pop hitmakers Rudy Pérez and Kike Santander and broadened her style considerably. In particular, she indulged in sweeping romantic balladry such as lead single "El Dolor de Tu Presencia," which topped the Hot Latin Tracks chart for eight consecutive weeks, in the process driving Libre all the way to number two on Billboard's Top Latin Albums chart. The album's two further hit singles, "Entre el Delirio y la Locura" and "A Fuego Lento," were both ballads also. The manic album-closer, "Vamos al Mundial," which was chosen by the Univision television network as one of the official songs of the 2002 World Cup, showcased a much more upbeat side of Peña. And, of course, there was plenty of tejano, albeit of a relatively watered-down variety, to be found elsewhere on the album, in addition to several cumbia versions tacked on as bonus tracks. Overall, Libre was a considerable leap forward for the 18-year-old former
Princesa de la Música Tejana
, and it earned her a long list of accolades, including another Grammy nomination (Best Mexican/Mexican-American Album), a Premios Lo Nuestro Award (Female Regional Mexican Artist of the Year), two South Texas Music Awards (Female Vocalist of the Year, Female Entertainer of the Year), and four Billboard Latin Music Award nominations.
Peña followed up her solo breakthrough with a similar album, Seducción (2004). Again helmed by producers Rudy Pérez and Kike Santander, with Emilio Estefan also providing oversight, the album is strikingly similar in approach to Libre. If anything, there's a greater emphasis on the sweeping ballads that proved so successful on the previous go-round. Lead single "Vivo y Muero en Tu Piel," written by Pérez, was one such ballad, and it spent five weeks atop the Hot Latin Tracks chart, affirming Peña's talent for delivering slick, big-sounding romance. "Hasta el Fin del Mundo," the second single, also written by Pérez, this time in conjunction with Manny López, followed the same template: a glossy ballad with an uplifting, multi-tracked chorus and a touch of electric guitar soloing on the bridge. "Si Yo Me Vuelvo a Enamorar," the other single to break the Hot Latin Tracks Top 20, was the exception, employing aspects of regional Mexican music. "No Hay Nadie Igual Como Tú," a Spanish-language cover of "Can't Take My Eyes Off You," then recently popularized by
Lauryn Hill
, was also released as a single. Seducción didn't earn Peña the accolades that her Univision debut had, yet it solidified her audience, selling just as well (300,000-plus units) and topping the Latin album chart in the process. While the album was still riding high on the charts, Univision released Houston Rodeo Live, a Top Ten-charting concert album that had been recorded in front of 45,000 fans at the Astrodome during the Houston Livestock Show and Rodeo.
Peña's third solo album, Dicen Que el Tiempo (2007), reflected the growth she experienced during her time off in the wake of the back-to-back successes of Libre and Seducción. For one, Peña dated
Obie Bermúdez
, a similarly young and successful Latin pop artist; notably, the two appeared together on El Show de Cristina, where they sang a duet. Secondly, Peña began acting in films, beginning with the MTV production All You've Got (2006); another supporting role followed, in the independent film Amexicano (2007). When Peña did return to the studio to begin work on Dicen Que el Tiempo, she entered with
Bermúdez
at her side, along with his producer, Sebastián Krys, who has a long track record of hitmaking. Moreover, she'd co-written ten of the 12 songs that would end up on the album, and nine of those ten had been written with
Bermúdez
, who is a gifted songwriter. The one cover song,
Juan Gabriel
's "Pero Qué Necesidad," is a duet featuring Peña and
Bermúdez
. The album's lead single, "Como Entender," unsurprisingly was a sweeping ballad; however, it's one of the few on the album, which showcases a refreshing breadth of styles. There's no escaping the imprint of
Bermúdez
on Dicen Que el Tiempo, for the album plainly resembles recent releases of his such as Lo Que Trajo el Barco (2006) and Todo el Año (2004). Upon its release, Dicen Que el Tiempo didn't match the commercial success of its predecessors, though it was well received by fans and critics alike. ~ Jason Birchmeier, Rovi
full bio
Selected Discography
Similar Artists
Don't have a Pandora account? Sign up
Already have a Pandora account? Log In