We created Pandora to put the Music Genome Project directly in your hands
It's a new kind of radio –
stations that play only music you like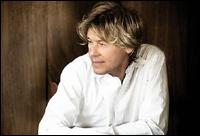 People who also like this
In the '90s, guitarist Jeff Golub's blend of jazz, R&B, and pop earned him a reputation for being one of the edgier, more tasteful players in the crossover jazz/NAC/smooth jazz field. Although some of Golub's recordings were played on smooth jazz stations extensively, he was quoted as saying that he refuses to play outright elevator music, and to be sure, Golub's solos give the impression that he is essentially a soul-jazz improviser at heart. The Ohio native (whose influences have included
Wes Montgomery
,
George Benson
,
Lee Ritenour
, and
Larry Carlton
, among others) is quite capable of playing straight-ahead bop; he certainly has the chops for it. However, Golub chose to focus on more commercial music and has a long résumé as a rock, pop, and R&B session player. He appreciates being compared to artists like
David Sanborn
,
the Crusaders
,
Ronnie Laws
,
Joe Sample
, and the late
Grover Washington, Jr.
; that is, instrumentalists who can be commercial and groove-oriented but still have a jazz improviser's mentality.
Golub was born on April 15, 1955, in Akron, Ohio, where he grew up listening to a variety of R&B, funk, blues, jazz, pop, and rock and began playing guitar as a pre-adolescent. In the '70s, Golub moved away from Akron to attend the prestigious Berklee College of Music in Boston. But by 1980, he had relocated again, this time to New York City, where he was still residing 23 years later. It was in the early '80s that Golub was hired to back arena rock/hard rock star
Billy Squier
, and that association led to a lot of other session work. The list of major rock or R&B artists Golub backed in the '80s or '90s (either in the studio or on-stage) includes
Tina Turner
,
John Waite
,
Vanessa Williams
,
Ashford & Simpson
,
Dar Williams
, and former
J. Geils Band
vocalist
Peter Wolf
. In 1988, Golub was hired to back
Rod Stewart
, an association that lasted for eight years; 1988 was also the year in which Golub's first album as a leader, Unspoken Words, was released by the Gaia label, but at that point, he was still devoting most of his time to backing other artists.
It wasn't until 1994, when Golub founded the band Avenue Blue, that playing as a leader became the guitarist's main activity. That year, Golub signed with Mesa/Bluemoon, and Avenue Blue's self-titled debut album of 1994 fared well in the smooth jazz/NAC market. Two more Avenue Blue projects were released by Mesa/Bluemoon -- Naked City in 1996 and Nightlife in 1997 -- but after that, he put the name Avenue Blue to rest. While Avenue Blue, Naked City, and Nightlife had been billed as "Avenue Blue featuring Jeff Golub," 1999's Out of the Blue on Atlantic was billed as strictly Jeff Golub. After that, Golub moved to GRP/Verve, which released
Dangerous Curves
in 2000,
Do It Again
in 2002, and
Soul Sessions
in 2003. A few years later, Golub made yet another move, releasing
Temptation
on Narada in 2005.
Grand Central
followed in 2007. In 2009, Golub returned to his '80s rock roots, with the electric blues album
Blues for You
showcasing vocals from such old pals as
Billy Squier
,
Peter Wolf
, and
John Waite
. In 2011, his band cut
The Three Kings
with New Orleans piano legend
Henry Butler
. In 2011 the optic nerves in Golub's eyes, inexplicably collapsed, leaving him blind and requiring a guide dog. In September of 2012, while attempting to catch the subway in New York City, he fell onto the tracks as a train was approaching. He was clipped and dragged by the train as bystanders tried to help. Amazingly, other than cuts and bruises, he was unharmed. Undaunted, the guitarist recorded a collaborative album with British keyboard legend
Brian Auger
, ironically entitled
The Train Keeps A-Rollin'
. The set was released in the summer of 2013. ~ Alex Henderson, Rovi
full bio
Selected Discography
Similar Artists