Free personalized radio that
plays the music you love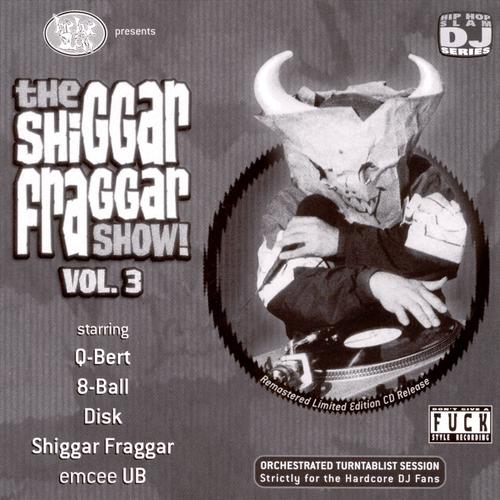 People who also like this
The Invisibl Skratch Piklz were a rotating crew of hip-hop DJs whose tactile acrobatics were more accurately served by the term (coined by Piklz founder
DJ Q-Bert
) "turntablist." A quintet (although their lineup shifted constantly), the group's core consisted of
Q-Bert
(
Rich Quitevis
), "Mixmaster Mike" Schwartz, and Shortkut (J. Cruz), with newcomers D-Styles and Yoga Frog replacing founding member DJ Disk (Lou Quintanilla) in 1996. Individually and as a group, the Piklz's reputation in the hip-hop underground is undisputed, and journos get a kick out of describing how they were asked by the world's most prestigious international DJ association (DMC) to stop competing since they were discouraging other DJs from even bothering to enter. But it's the leaps the group have made since they retired from competition that have proved most impressive; dragging turntable tricknology into new and wholly autonomous territories of musicianship being developed by a new generation of bedroom virtuosi, with turntable groups such as the X-Men,
the Beat Junkies
, and the Skratch Piklz at the forefront.
Although the members had known each other and practiced and played together for years (most notably under the names FM20, Dirt Style Productions, and the Turntable Dragons), the Invisibl Skratch Piklz officially formed in 1995. Citing the underground vitality of turntablism and its distance from the comparatively stale commercial rap scene, the Piklz's stated intent was to focus on the art of DJing (defined by skills such as cutting, scratching, and beat juggling) in order to develop and expand its musical potential. Beginning with a five-part series of mix tapes called the Shiggar Fraggar Show (recorded for Oakland-based hip-hop writer/promoter Billy Jam's pirate radio show, Hip-Hop Slam), the group quickly evolved from a hybrid of more traditional cutting, scratching, and trick DJing into an autonomous "turntable orchestra"; scratching out by hand (on as many as five turntables at once) a unified montage of beats (i.e., manually scratched kick, snare, hi-hat, etc.), bass lines (i.e., continuous bass tones manipulated by hand and with the turntable's speed and pitch controls), wah-wah pedal effects, and extremely intricate and controlled scratch textures. The first fully formed examples of this emerging aesthetic, "Invasion of the Octopus People," appeared on the underground turntablist compendium Return of the DJ, and was later included on
Bill Laswell
's similarly styled Altered Beats (released on Axiom in 1996). Additional international tours, guest appearances, videotapes, and compilation tracks brought these innovations to a wider audience, often to people previously unaware of the music's potential and sophistication.
Although an awareness of the mechanics of scratching is helpful in understanding the group's innovations, the music's logic (as well as its stylistic moorings, from hip-hop to jazz and beyond) is pretty self-evident, a fact which led to a recording deal with the Asphodel label in 1997. Their first release, The Invisibl Skratch Piklz Vs. the Clams of Death, is a 12"/CD+ best-of compiling bits of the group's various routines from the past few years. A dozen or so other mix-tape snapshots of the members' ever-evolving sound also exist, as well as a handful of breaks records (among them Battle Breaks, Booger Breaks, Toasted Marshmallow Feet Breaks, and Eardrum Medicine) which are also standards of the scene, continually selling out pressing after pressing within weeks. Additionally,
Q-Bert
contributed turntable work on
Kool Keith
's immensely popular Dr. Octagon LP, and members of the Piklz also appeared on recordings by
Saafir
,
Ras Kass
, MCM & the Monster, and
Praxis
. In 1998, the
Beastie Boys
invited
Mix Master Mike
to cut it up on their Hello Nasty album and subsequent tour. As
Mix Master
and Shortcut (who joined
the Beat Junkies
) focused on their solo work and side projects, the remaining DJs found it impossible to carry on as crew and formally announced their demise as a collective in 2000. ~ Sean Cooper
full bio
Selected Discography
Similar Artists
Don't have a Pandora account? Sign up
Already have a Pandora account? Log In