We created Pandora to put the Music Genome Project directly in your hands
It's a new kind of radio –
stations that play only music you like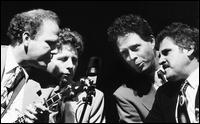 People who also like this
The eclectic Colorado progressive bluegrass band Hot Rize also plays traditional bluegrass, jazz, and rock. They came together in 1976 and were named after the secret ingredient of Martha White Self-Rising Flour, the product
Flatt & Scruggs
had promoted early in their careers. The bandmembers were
Tim O'Brien
on lead and harmony vocals, mandolin, and fiddle; Pete Wernick on banjo and harmony vocals; and Charles Sawtelle on bass guitar, guitar, harmonies, and lead vocals. Mike Scap departed in 1976 and was replaced by bass player, guitarist, and vocalist Nick Forster, who also became the group's MC. Hot Rize recorded their self-titled debut album, a blend of traditional and new material, in 1979. Their second album,
Radio Boogie
, came out in 1981. A year later, their alter ego Red Knuckles & the Trailblazers, a parody of hardcore '50s country music, recorded their own album, Red Knuckles & the Trailblazers. In 1984 Hot Rize released a concert album largely comprising traditional hits, and in 1985 they released
Traditional Ties
. In 1991 another Red Knuckles album, Shades of the Past, followed. After
Take It Home
came out in 1992,
O'Brien
and Wernick went on to successful solo careers, while Forster went on to executive-produce the syndicated radio variety show
Etown
. Sawtelle passed away in March 1999 after a two-year fight with leukemia. Hot Rize regrouped in 2002, adding
Bryan Sutton
on guitar, and began doing shows again, sometimes playing Western swing music under the Red Knuckles & the Trailblazers moniker.
When I'm Free
, a new album from Hot Rize, was issued by Ten in Hands Records in 2014. ~ Johnny Loftus & Steve Leggett, Rovi
full bio
Selected Discography
Similar Artists