We created Pandora to put the Music Genome Project directly in your hands
It's a new kind of radio –
stations that play only music you like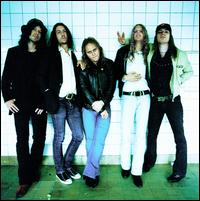 People who also like this
What
the MC5
and
Stooges
were to the '60s, what
Sonic's Rendezvous Band
and
Radio Birdman
were to the '70s, and what
the Celibate Rifles
were to the '80s -- that's what Sweden's Hellacopters were to the '90s. Young, strapping, and rocking out to almost cartoon-like proportions, the Hellacopters have made quite a name for themselves in Europe and Australia. And a deal with Sub Pop had them targeting the States. The rock -- fast, extremely hard, and loud beyond reason -- has gotten the band noticed by several of their seminal influences, such as Scott Morgan, who has performed with them many times as well as collaborated on a single for the aforementioned Sub Pop label, and also
the Dictators
, with whom they have done several European tours.
Releases include 1998's Super S**tty to the Max! and its 1999 follow-up,
Grande Rock
. The Hellacopters also teamed with
Gluecifer
for a 1999 split release, Respect the Rock America. White Trash Soul appeared in early 2001, followed by the European release of
High Visibility
. That record wouldn't see American soil for a whole year (while it was a major-label release at home, it appeared on the independent Gearhead imprint in the States), while they garnered awards in their home country. Universal opted to release the band's next full-length set, 2002's By the Grace of God, on both sides of the ocean, while fans who were having trouble keeping up with their many singles and compilation tracks got relief with two odds-and-sods compilations,
Cream of the Crap!
and Cream of the Crap!, Vol. 2. Despite being filled with old-fashioned rock & roll, the band's 2005 release was titled Rock & Roll Is Dead. ~ Geoff Ginsberg, Rovi
full bio
Selected Discography
Similar Artists