We created Pandora to put the Music Genome Project directly in your hands
It's a new kind of radio –
stations that play only music you like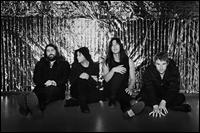 People who also like this
Stemming from a D.I.Y. noise scene based around the downtown L.A. art space The Smell, HEALTH make mathy indie rock with tribal drums, squealing guitars, asymmetrical basslines, and a homemade guitar pedal/microphone called a Zoothorn. As a four-piece led by Jacob Duzsik, the band played its first show after practicing together for six months, and started making a go in Los Angeles, playing ten-minute sets with like-minded local bands like
Ex Models
,
No Age
, and
Mika Miko
. After a few tours and a slot at SXSW, they returned to home base and started recording their debut album at The Smell. Capturing the cavernous brick acoustics with vintage microphones,
HEALTH
featured a unique brand of aggressive and concise songs, and was released by Lovepump Records in 2007. Later, they started touring with pals
Crystal Castles
, an aggressive electro duo that had previously shared a 7" with the band. HEALTH also remixed their song "Crimewave" that year. To repay the favor,
Crystal Castles
contributed to a full album of HEALTH remixes, titled //DISCO. In 2009, the group unleashed its muscular and crunchy second full-length,
Get Color
. Following tradition, the songs from this album were remixed for 2010's
::DISCO2
. HEALTH composed the score for 2012's
Max Payne 3
, which earned nominations for Best Score in a Game and Best Song in a Game (for the track "Tears") at that year's Spike Video Game Awards. They continued their foray into video game music in 2013 with "High Pressure Dave," a song inspired by the Units' "High Pressure Days" that appeared in
Grand Theft Auto V.
HEALTH returned with new material in 2015, premiering the single "New Coke" a few months in advance of their third full-length, Death Magic. ~ Jason Lymangrover, Rovi
full bio
Selected Discography
Similar Artists