Free personalized radio that
plays the music you love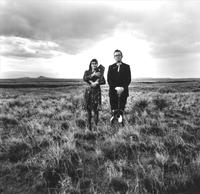 People who also like this
Husband-and-wife duo the Handsome Family has been labeled both alt-country and traditionalist, but truthfully their often-dark music lies in a unique space somewhere in between, blending the sounds of traditional country and bluegrass (and, especially, murder ballads) into a more modern scenery. Vocalist and composer
Brett Sparks
hails from Texas, where he studied music and briefly worked around the oil rigs. By the mid-'90s, he resided in Chicago with his wife Rennie Sparks, a fiction writer originally from Long Island.
Brett
persuaded Rennie to write lyrics for him, leading to the unusual and striking form of the Handsome Family's songs -- evocative scenes and brief tales (of both the daydream and ghost story varieties) in lieu of the standard verse-chorus-verse structure.
The Handsome Family's debut album, entitled Odessa, was released in January 1995 on the independent label Carrot Top. This first home recording (all of the Handsome Family's albums are recorded in their living room) had slight punk shadings not heard on their subsequent albums. Odessa unfortunately made few waves except for some radio stations' ban on the second song, "Arlene," which is about a woman who gets bludgeoned to death. The follow-up came in May of the following year, and the Handsome Family hit the road in support of their new release, Milk and Scissors, first touring the U.S. with
Wilco
, then heading on to Europe for shows in Austria, Germany, and Switzerland. With Milk and Scissors, the duo had traded in their previous rock edges for more traditional country sounds. The resulting album won praise from the critics, got named in the Top Ten of 1996 by alt-country/Americana magazine No Depression and was featured on John Peel's BBC show.
This was not, however, an easy period for the Handsome Family.
Brett
suffered an emotional breakdown during this time, which resulted in his hospitalization and diagnosis as manic-depressive. Through the Trees (Carrot Top, January 1998), the Handsome Family's third album, was written and recorded in the aftermath of these troubles. The raw, emotional quality of lyrics that deal with the darkness of everyday tragedy is delivered in
Brett
's deadpan baritone, often met by more traditional country sounds. With this recording, the Handsome Family came into their own sound and received widespread attention as a result. Through the Trees was named the best local release and in the Top Ten of 1998 by major Chicago papers, but the attention went far beyond the local press; the album received praise from major magazines, both online and in print. Through the Trees was featured on NPR and even named the Best New Country Album of the Year by England's Uncut magazine, despite the album's overall untraditional sound.
This was the Handsome Family's breakthrough album, which continued to increase in popularity over the next several years, allowing
Brett
and Rennie Sparks to quit their day jobs and focus on music full-time. Following the album's release, the duo began touring extensively, performing regularly in Europe and touring the U.S. twice -- once with
the Mekons
. On the wave of this success, two years later came the somewhat lighter and more natural sounds of In the Air (Carrot Top, 2000), with guest appearances by
Jeff Tweedy
of
Wilco
and violinist
Andrew Bird
, formerly of
the Squirrel Nut Zippers
. The Handsome Family supported the release of their fourth album with a month-long European tour followed by a tour along the West Coast of the U.S. A document of their sound at this time can be found on their 2002 release Live at Schuba's Tavern, which was recorded at a December 2000 show in Chicago. The duo released Singing Bones in 2003, followed by Last Days of Wonder in 2006 and Honey Moon in 2009. ~ Joslyn Layne
full bio
Selected Discography
x
Track List:
In The Forest Of Missing Planes
Similar Artists
Don't have a Pandora account? Sign up
Already have a Pandora account? Log In