Free personalized radio that
plays the music you love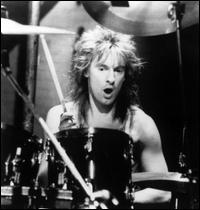 People who also like this
Led by the inspired guitar work of Nick Bowcott and the powerful lungs of Steve Grimmett, Grim Reaper's tough, raw, but melodically charged music embodied British heavy metal's most popular devices (and clichés) throughout the mid-'80s. The fact that Grim Reaper was capable of combining the above attributes so competently, yet truly excelled at none of them resulted in an exceedingly swift "rags to glory and back to rags" story, which somehow was as surprising as it was strangely fitting. Add to this a far from attractive visual aesthetic (i.e., they were four crusty English dudes with handlebar moustaches, bad hair, and even worse teeth) and it was clear Grim Reaper was doomed to enjoy a limited afterlife in the newly established MTV regime.
Guitarist Nick Bowcott founded Grim Reaper in Droitwich, England, circa 1979, working with a number of different lineups before teaming up with singer Paul DeMercade, bassist Phil Matthew, and drummer Angel Jacques in time to record his song "The Reaper" for 1981's very influential Heavy Metal Heroes compilation. Despite its brooding power chords and rough-hewn sonics (or perhaps because of them), the song stood out from the album's other New Wave of British Heavy Metal hopefuls and landed the group increased touring commitments up and down the U.K. club circuit. But by the time Grim Reaper finally landed a record deal with independent Ebony records a year later (on the strength of a three-song demo made with studio time won in a battle of the bands competition), Bowcott had scrapped the entire band once again and was now flanked by vocalist Steve Grimmett, bassist Dave Wanklin, and drummer Mark Simon.
Originally issued in November 1983, Grim Reaper's debut, See You in Hell, was far more polished than the band's first single and initially seemed fated for historical oblivion, since European fans steeped in heavy metal history found little merit in the band's energetic but rather ordinary metal style. But to metal-starved American audiences, the album (which giant RCA released worldwide the following year) actually sounded somewhat fresh; at once accessible and aggressive, it went on to sell a quarter of a million copies and reached a very respectable number 73 on the U.S. charts. Extensive touring stateside followed and the conservative media's unfounded allegations of satanic worship due to Grim Reaper's sullen looks; leather-bound wardrobe; and sinister, demonic imagery almost had them feeling like bona fide rock stars by year's end. Once back home in England, the band needed only nine days to record 1985's sophomore Fear No Evil, which nearly matched its predecessor in terms of quality (and competent unoriginality), but nevertheless failed to replicate its commercial success. The bands fair-weather friends at RCA quickly lost interest and Grim Reaper's career suddenly stalled in America.
Bowcott and company spent much of 1986 attempting to regroup and after welcoming new drummer
Lee Harris
, Grim Reaper finally announced its return with a make-or-break third effort, 1987's somewhat redundant Rock You to Hell. Unfortunately, "break" would be the final verdict, for though the album actually showed some early promise in the U.S., where it climbed to 93 on the charts, sales soon plummeted and it vanished from site. When ongoing discussions to re-utilize some of its songs in a film soundtrack also fell through, Grim Reaper slowly ground to a halt and everyone eventually went their separate ways. Grimmett temporarily joined power metal outfit
Onslaught
before founding a new band, called
Lionsheart
, while Bowcott found some notoriety as a regular columnist for Circus Magazine and other guitar publications. ~ Eduardo Rivadavia
full bio
Selected Discography
Similar Artists
Don't have a Pandora account? Sign up
Already have a Pandora account? Log In