Free personalized radio that
plays the music you love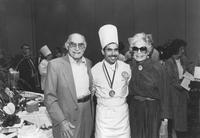 People who also like this
Louis Marshall "Grandpa" Jones was one person who aged right into his makeup. Like his real appearance, however, his actual background and role in country music were deceptive and more complex than they seem. Beginning in the 1920s, he began attracting attention with his boisterous performing style, old-time banjo performing, and powerful singing, and by the 1940s, with hits like "Rattler" and "Mountain Dew," he began receiving national attention. He joined the Grand Ole Opry in 1946 and remained there throughout his career; in the 1960s, with hits like "T for Texas," he continued making a place for himself on the country charts, and as a regular on Hee Haw since its inception in 1969, he became a television celebrity. But Jones' influence went much further than that chain of successes would indicate -- he was almost single-handedly responsible for keeping the banjo alive as a country music instrument during the 1930s and 1940s, and in addition to his own work and songs, he was an important associate and collaborator of
Merle Travis
.
Jones was born in Niagra, KY, and grew up not in the mountains or the countryside, as one would think from his music, but in industrial Ohio and Kentucky, living in factory towns. His father was a fiddle player, and his mother was a ballad singer. He listened to a lot of radio growing up, especially the National Barn Dance out of Chicago, and his strongest influences included old-time country music and gospel songs as well as the music of
Jimmie Rodgers
, which led him to begin yodeling. He'd made it onto the radio himself by 1929 at the age of 18 as the Young Singer of Old Songs. Later on he moved to Chicago, teamed with Bashful Harmonica Joe, and appeared on the Lum and Abner show. During the mid-'30s, he started working with
Bradley Kincaid
, the man who gave Jones the "Grandpa" name, a result of his grouchy moods during their early-morning radio broadcasts -- Jones thought the name worked and adopted makeup to match. Coupled with his skills as a comedian and raconteur, the image was a natural. It was with
Kincaid
that Jones' career moved to Boston, where their brand of country music proved extremely popular among rural New Englanders.
As a solo act later in the 1930s, Jones had radio shows on numerous stations from West Virginia and Connecticut to Cincinnati, where he sang folk ballads and more old-time country ballads as well as gospel songs. He also learned to play the banjo and made it an integral part of his act at a time when the instrument had all but vanished from country music; it was the combination of Jones' old-time repertory and humor that helped to keep the banjo alive as a viable, popular country instrument. Jones later hooked up with Alton and Rabon Delmore and
Merle Travis
, and played with them throughout World War II as Brown's Ferry Four. He and
Travis
also became the first artists to record for the newly founded King label, under the name of the Shepherd Brothers. Jones' own earliest solo records were also done for King during this period, among them "It's Raining Here This Morning," "Eight More Miles to Louisville," "Rattler," and "Mountain Dew."
Those singles brought Grandpa Jones to national attention, and he was poised for the next step in his career, a move to Nashville. Before that, however, he married
Ramona Riggins
, who became not only his wife but his accompanist on fiddle and mandolin. In 1946, he began playing on the Grand Ole Opry and touring with acts such as Lonzo & Oscar and
Cowboy Copas
. He didn't stay in Nashville too long at first, moving to Lorton, VA, and a radio show in Arlington, and later on the Old Dominion Barn Dance in Richmond. Finally, he returned to Nashville as a regular member of the Opry. Jones recorded with King Records from 1945 until 1952, when he moved to RCA Victor, where he remained for four years, recording both traditional-sounding country and topical songs ("I'm No Communist").
In 1956, he began a six-year stint on Decca Records, recording a total of 16 songs including the talking-blues country hit "The All-American Boy" in 1959. Jones moved to Fred Foster's Monument Records in 1962 and had a Top Five country hit the following year with "T for Texas." His career during the 1960s continued uninterrupted, and in 1969 he joined the cast of the new country music/comedy showcase Hee Haw, which gave him unprecedented national exposure for the next two decades. By 1978, he'd been elected to the Country Music Hall of Fame and, by that time, was taking on the real-life role of elder statesman within the community. He continued recording into the 1980s, although his music is somewhat under-represented today on compact disc, apart from the Monument and Decca sides. In 1984, Jones published his autobiography, Everybody's Grandpa. He died February 19, 1998. ~ Bruce Eder
full bio
Selected Discography
Similar Artists
Don't have a Pandora account? Sign up
Already have a Pandora account? Log In