Free personalized radio that
plays the music you love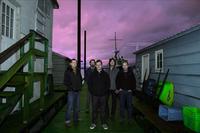 People who also like this
Instrumental rock band Grails began in Portland, Oregon in 1999 as a bedroom project never meant for the stage. Initially consisting of Alex J. Hall and Paul Spitz on guitar, Emil Amos (also of
Holy Sons
) on drums and guitar, Timothy Horner on violin, and William Slater on bass and keyboards, the group first used the moniker Laurel Canyon while venturing out live on a dare and producing two EPs of recorded material. By the time they had stirred up interest and landed a deal with Neurot Records, they had changed their name to Grails and Spitz had been replaced by Zak Riles. Intact was the band's focus on all-instrumental post-rock with ancient Celtic inclinations and heavily influenced by Eastern modalities, with a multi-instrumentalist role for most bandmembers. They released two albums on Neurot: The Burden of Hope in 2003 and Redlight in 2004. Both albums showcased what were basically live recordings of the young bandmembers finding their place, sometimes battling, sometimes acquiescing, but always succeeding in capturing their signature evocative and dynamic soundscapes.
That motif would eventually become more aggressive and dissonant over time, with the Celtic aspect becoming downplayed in favor of elements of prog and psychedelic, dub and experimental, perhaps due to the loss of Horner, who virtually disappeared into a life of addiction and living on the streets. In 2004, while touring Europe, Grails were invited to record at famed Southern Studios in London, culminating in Interpretations of Three Psychedelic Rock Songs from Around the World. It was Amos who introduced the three pieces they were to cover by playing them on the stereo in the band's touring van and uniting his bandmates by focusing on choices as disparate-sounding yet psychically connected as
Gong
,
the Byrds
, and Flower Travellin' Band. The experience drew the bandmembers closer together, and their nearly symbiotic unity and cohesiveness is readily apparent on their subsequent release, Black Tar Prophecies, which was first released as a series of EPs, then collected on one CD in 2006 on Important Records.
In Amos' own words, "Black Tar Prophecies is the essential departure point...it's where the band finally acknowledged the experimental root of the music we had come to accidentally play together...and by acknowledging that root and embracing post-production for the first time, the group made some of the weirdest, most alien-sounding music it will probably ever make." With an album of such epic proportions showing formidable talent and unlimited potential under their belt, Grails continued to tour vigorously in the U.S. and Europe, and signed with Temporary Residence in 2006, releasing the impressive and critically acclaimed Burning Off Impurities in 2007, following it with Take Refuge in Clean Living and Doomsdayer's Holiday in 2008. The band returned to the Black Tar Prophecies with Vol. 4 in 2010.
Grails changed directions radically for 2011's Deep Politics, moving beyond their post-rock/psych roots with cut-and-paste production styles and lush string arrangements by acclaimed composer Timb Harris. The album features the influences of '70s Italian film scores and obscure occult/fringe library music, which they hoped would "cultivate an immersive environment that inspired both an eternal sense of longing and an impending sense of dread." For the promo video, Grails used disturbing film footage of a dead body being dragged from a beach to the sound of
Chuck Mangione
's bygone hit "Feels So Good," doctored by various keyboards and eerie voices. Deep Politics became their most acclaimed release up until that point, and the band followed it in 2013 with Black Tar Prophecies, Vols. 4, 5 & 6, a deluxe collection of their mostly out of print 12"s, including three previously unreleased tracks that made up Vol. 6 of the series. After a few years of silence, Grails returned in 2017 with Chalice Hymnal. ~ Brian Way
full bio
Selected Discography
Similar Artists
Don't have a Pandora account? Sign up
Already have a Pandora account? Log In