We created Pandora to put the Music Genome Project directly in your hands
It's a new kind of radio –
stations that play only music you like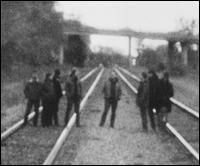 People who also like this
Godspeed You Black Emperor!
The instrumental multimedia Montreal group Godspeed You! Black Emperor create extended, repetition-oriented chamber rock. The minimal and patient builds-to-crescendo of the group's compositions results in a meditative and hypnotic listen that becomes almost narrative when combined with found-sound splices and the films of their visual collaborators.
GY!BE formed in 1994, and that year self-released a limited-run (33 copies) cassette entitled All Lights F**ked on the Hairy Amp Drooling. The band's next recording,
F#A#(Infinity)
, was initially a limited-run release of 550 LPs on the Canadian label Constellation, but was picked up by Kranky and released on CD as well. Early 1999 brought the EP Slow Riot for New Zero Kanada (released by both labels) and increased recognition for a band intent on retaining anonymity. Nevertheless, interest in GY!BE only continued to grow among new music fans, with much positive attention from The Wire magazine, the band's participation in the John Peel-produced Peel Session for the London BBC, and the group's consistently impressive live shows, including their performance at Quebec's 1999 new music festival FIMAV and a tour with
Labradford
later that year.
GY!BE performances generally include at least nine or more musicians and a projectionist. The instrumentation consists of three guitars, two basses, French horn, violin, viola, cello, and percussion. The year 2000 brought about the release of
Lift Your Skinny Fists Like Antennas to Heaven
, pushing their diverse orchestral rock sound even further into the universe.
Yanqui U.X.O.
followed in 2002. GY!BE remained in absentia until they reassembled for a tour in 2010. Another tour commenced in September of 2012 with stops at both the Pitchfork and All Tomorrow's Parties festivals of that year. In October, GY!BE announced
'ALLELUJAH! DON'T BEND! ASCEND!
, their first recording in a decade, a mere two weeks before it was released. Drummer Tim Herzog replaced Bruce Cawdron around this time and GY!BE played sporadically for much of the next two years as they worked on their sixth album between late 2013 and 2014. Asunder, Sweet and Other Distress was recorded in Montreal and North Carolina; it marked the band's first single LP-length release since 1999. Recorded and mixed by Greg Norman, it was issued in the spring of 2015. ~ Joslyn Layne, Rovi
full bio
Selected Discography
Similar Artists