Free personalized radio that
plays the music you love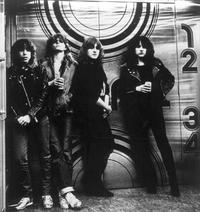 People who also like this
Although
the Runaways
preceded them by several years, Girlschool was one of the first all-female outfits to emerge in the male-dominated world of heavy metal/hard rock, helping to pave the way for similar groups of the future. Originally formed in South London during 1977 by bassist Enid Williams and vocalist/guitarist Kim McAuliffe (along with a few other members), the group was first known as Painted Lady. Eventually the pair came across permanent members Kelly Johnson (guitar, vocals) and Denise Dufort (drums), and switched their name to Girlschool by 1978. With England just about to be swept up by a massive heavy metal movement (known as the New Wave of British Heavy Metal), Girlschool picked a perfect time to issue a debut single, "Take It All Away," which caught the attention of Motörhead manager Doug Smith, who in turn signed on as Girlschool's manager. After supporting both Motörhead and
Budgie
on tour, Girlschool landed a recording contract with Bronze Records (which at the time was the home to such notable metal acts as Motörhead,
Uriah Heep
, and
Juicy Lucy
).
The quartet's 1980 debut, Demolition, reached the U.K. Top 30, but was surprisingly not issued in the U.S. (despite spawning four popular singles back home: "Emergency," "Nothing to Lose," "Yeah Right," and "Race with the Devil"). Girlschool's sophomore effort, 1981's Hit & Run, proved to be even more successful, peaking at number five on the British album charts, while a collaboration with their pals in Motörhead, an EP called The St. Valentines Day Massacre, hit number five on the British singles charts (due in part to the irresistibly raucous track "Please Don't Touch"). Hit & Run would also turn out to be the first Girlschool album issued stateside, albeit with a different track listing than the original U.K. version (the U.S. version was more or less a compilation of both of their albums). Released in 1982, Screaming Blue Murder and 1983's Play Dirty both failed to perform as impressively on the U.K. charts as their predecessors did, the latter of which contained a more commercial sound and was produced by
Slade
members Noddy Holder and Jim Lea.
But it was also around this time that lineup changes began to plague the group, starting off when Johnson left the band following the release of Play Dirty. Further albums were issued (such as 1985's Running Wild, 1986's Nightmare at Maple Cross, and 1988's Take a Bite), but Girlschool were unable to replicate their early success, leading to their breakup shortly after the release of Take a Bite. In the wake of Girlschool's initial split, McAuliffe teamed up with punk singers Beki Bondage and Toyah Willcox, worked on the U.K. cable television show Raw Power, and in 1991 toured with former bandmates Dufort and Williams under the name Strange Girls. Throughout the '90s, Girlschool would reunite sporadically for tours and albums (including 1992's self-titled release and 1995's Live), while several compilations were issued, including 1995's double-disc best-of set The Collection and 1997's The King Biscuit Flower Hour Presents In Concert (the latter featuring a show recorded on January 12, 1984, in Nashville, Tennessee).
By 2000, Girlschool's original lineup had, for the most part, been reassembled, though Johnson, fighting a cancer diagnosis, eventually ceded lead guitar duties to newcomer Jackie Chambers. Arriving a full decade after their last studio effort and featuring a combination of their late-'90s and early-2000s lineups, 21st Anniversary: Not That Innocent was released by Communiqué Records in 2002. Over the coming years, Girlschool continued to tour, becoming a festival mainstay around the world as well as being more active in the studio. Released in 2004, Believe found Chambers asserting her role in the band as both a songwriter and player. In 2007, Johnson, who had remained closely associated with the band, finally succumbed to spinal cancer. Girlschool would salute their fallen friend and guitarist with a series of tribute shows and a 2008 studio album called Legacy that also coincided with the band's 30th anniversary. A re-recording of their second album called Hit and Run: Revisited appeared in 2011 and the band continued to tour the world, frequently paired with other metal icons from their era. In 2015, they released Guilty as Sin, their 13th album. ~ Greg Prato & Timothy Monger
full bio
Selected Discography
Similar Artists
Don't have a Pandora account? Sign up
Already have a Pandora account? Log In