Free personalized radio that
plays the music you love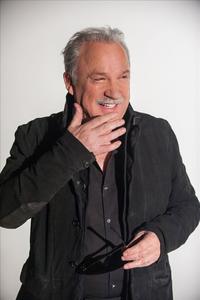 People who also like this
Though Giorgio Moroder is best known as one of disco's principal architects, his career also included early flirtations with bubblegum and glam, award-winning film music and a 2010s resurgence that reflected his status as an electronic music pioneer. Born in Ortisei, Italy, on April 26, 1940, Moroder started his career in music while still in his teens, touring Europe as a guitarist in a covers band. After moving to Berlin to concentrate on songwriting, he released a few singles in the mid-to-late '60s as Giorgio. He relocated to Munich and established his own studio, Musicland, where he recorded 1969's bubblegummy "Looky Looky," which was awarded a gold disc the following October. His first LP, Son of My Father, was released in early 1972; that year, the title track was a number one U.K. for Chicory Tip. Around that time Moroder was introduced to fellow aspiring musician Pete Bellotte, with whom he formed a production partnership; in collaboration with singer
Donna Summer
, the duo was to become one of the most powerful forces in '70s-era dance music, their success beginning with the release of 1974's Lady of the Night. Summer's Love to Love You Baby followed in 1975; the title track, clocking in at close to 17 minutes in length, was an international smash, its shimmering sound and sensual attitude much copied in the years to follow.
At their mid-'70s peak, Moroder, Bellotte, and
Summer
were extraordinarily prolific, releasing new albums about once every six months. Concept records like 1976's A Love Trilogy and Four Seasons of Love culminated with the release of 1977's I Remember Yesterday, a trip through time which climaxed with the smash "I Feel Love." With its galloping bass line and futuristic, computerized sheen, the single was among the watershed hits of the disco era, and helped propel Summer to new prominence as the reigning diva of the dancefloor.
In 1978, Moroder made his initial foray into film music, winning an Academy Award for his score to Alan Parker's Midnight Express. Summer's double-LP Bad Girls followed in 1979, becoming a massive hit and spawning such chart-topping singles as "Hot Stuff" and the title cut. During this time, Moroder also released solo recordings such as 1979's E=MC2 -- the first album recorded live-to-digital -- and was a member of the disco band Munich Machine. After one final studio LP, 1980's The Wanderer, the Moroder/Bellotte/
Summer
team disbanded, and the disco era began drawing to a close.
In the early '80s, Moroder focused primarily on film music. In 1980, he composed and produced the soundtracks for Foxes, which included Donna Summer's hit "On the Radio" as well as Cher's "Bad Love," and the American Gigolo soundtrack, which featured Blondie's "Call Me." Two years later, his soundtrack for Cat People was released. In 1983, he produced the soundtrack for Scarface, which included Debbie Harry's "Rush Rush," while that year's Flashdance earned him his second Oscar for the hit "Flashdance...What a Feeling," performed by
Irene Cara
. In 1984, Moroder courted controversy from film purists for his contemporary electro-pop score to the restored release of Fritz Lang's silent-era masterpiece Metropolis. Along with a soundtrack featuring songs by Adam Ant, Freddie Mercury, Bonnie Tyler and Pat Benatar, he also increased the film's framerate to 24 frames per second. That year, he also collaborated with the Human League's Philip Oakey on the album Philip Oakey & Giorgio Moroder.
After contributing to the soundtrack of the 1986 hit Top Gun -- the love theme from which, "Take My Breath Away," earned him another Oscar for Best Original Song -- and writing the theme song to 1987's Over the Top, he turned away from dance music to focus on rock, producing Flaunt It, the debut from the heavily hyped British flash-in-the-pan
Sigue Sigue Sputnik
. He pursued non-musical projects such as the Cizeta Moroder V16T, a "supercar" he collaborated on with automotive engineer Claudio Zampolli and designer Marcello Gandini in 1988. In the '90s he turned to remixing, reworking Eurythmics' "Sweet Dreams (Are Made of This)" and material from
Heaven 17
and others. In 1998, his remix of "Carry On" -- a
Donna Summer
collaboration originally released in 1992 -- won him and
Summer
a Grammy Award for Best Dance Recording. He also continued to compose film music, writing the score for 2002's Impressionen unter Wasser, a marine documentary that was director Leni Riefenstahl's last project. Two years later, Moroder was induced into the Dance Music Hall of Fame, and in 2005, then-President of the Italian Republic Carlo Azeglio Ciampi gave him the title of Commendatore. In 2010, he received the Great Order of Merit of the South Tyrol.
Moroder returned to dance music in the 2010s, appearing on Daft Punk's 2013 album Random Access Memories and making his U.S. debut as a DJ that year at the Red Bull Music Academy in New York City. The following year, he released the single "Giorgio's Theme" via Adult Swim and issued remixes of Coldplay's Midnight" and Tony Bennett and Lady Gaga's "I Can't Give You Anything But Love." In 2015, Moroder released Déjà Vu, an album of dance-pop collaborations with artists including Kylie Minogue (with whom he also toured that year), Sia, Britney Spears, Mikky Ekko and Charli XCX. ~ Jason Ankeny
full bio
Selected Discography
Similar Artists
Don't have a Pandora account? Sign up
Already have a Pandora account? Log In