We created Pandora to put the Music Genome Project directly in your hands
It's a new kind of radio –
stations that play only music you like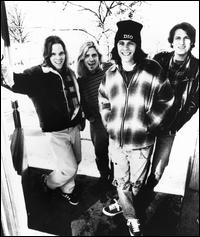 People who also like this
Taking their name from the
Syd Barrett
song, the effervescent power-pop unit Gigolo Aunts first came together in 1981 in Potsdam, New York as Sniper. The group -- comprised of vocalist/guitarist Dave Gibbs, brothers Phil and Steve Hurley (on lead guitar and bass, respectively) and drummer Phil Brouwer -- went through a series of subsequent names like Marauder and Rosetta Stone before settling on Gigolo Aunts (a suggestion from
Gibbs'
father) and moving to Boston in 1986.
In 1988, the band issued its debut Everybody Happy to little notice, and receded from view until
Gibbs
began playing guitar with fellow East Coast popsters Velvet Crush, whom he joined for a U.K. tour. While overseas,
Gibbs
made a number of crucial contacts with the likes of Creation Records' Alan McGee and the members of
Teenage Fanclub
, and interest in the Gigolo Aunts began to build. A series of assured EPs -- Gigolo Aunts, Gun and
Full-On Bloom
-- appeared to strong reviews, as did 1994's full-length
Flippin' Out
. After
Gibbs
and Phil Hurley turned down offers to join the reunited
Big Star
, they issued the 1995 EP Where I Find My Heaven; shortly after its release, Phil Hurley was replaced by Jon Skibic and Brouwer was replaced by Fred Eltringham.
Minor Chords and Major Themes
appeared in 1999. ~ Jason Ankeny, Rovi
full bio
Selected Discography
Similar Artists