Free personalized radio that
plays the music you love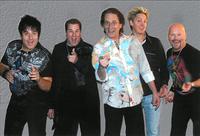 People who also like this
Gary Lewis & The Playboys
It would be difficult to find a rock & roll star -- and that was what he was for two years in the mid-'60s -- less likely than Gary Lewis, or a less probable chart-topping act than Gary Lewis & the Playboys. Lewis himself was possessed of a limited singing range and didn't have what could be considered good looks, yet with a lot of help he managed to make some exceptionally good (and good-selling) records out of Los Angeles, in the midst of the British Invasion, and teenagers loved him. He was the son of actor/comedian/director/producer
Jerry Lewis
, who was then one of the most popular entertainers in the country. Gary Lewis was born in 1946, before his father's ascent to the top of the entertainment world, but by the time he reached his teens -- and had begun playing drums and leading a combo of his own, which included Dave Walker on rhythm guitar and Dave Costell on lead, Al Ramsey on bass, and John West on the cordovox (a kind of electric accordion) --
Jerry Lewis
was a major star and one of the hottest box office and television attractions in the world. He could get a television series on the air, and networks and sponsors opening their checkbooks to back it, just by indicating he wanted to do one, and get a movie made by writing -- or just okaying -- a script. If he had any peer in the business in those days, it was
Frank Sinatra
.
The younger Lewis and his band got a gig during the summer of 1964 playing at Disneyland, and that engagement, coupled with some urging by the elder Lewis, helped get the band a hearing from Snuff Garrett, a top producer based at Liberty Records. Garrett saw some possibilities for the group and encouraged them to work in the studio at developing a sound. Gary Lewis even got some pointers in his approach to his instrument by no less a figure than
Buddy Rich
. It finally happened for them late in 1964 with a song called "This Diamond Ring," co-authored (with the Drifters in mind) by a young
Al Kooper
. The resulting record, on which Lewis sang (with lots of doubling of his voice) and he and the Playboys played on some of the basic tracks, but which mostly featured Hal Blaine on timpani and arranger
Leon Russell
dubbing much of what was left, was a career-making smash.
That song hit number one on the charts in early 1965, right in the middle of the British invasion, and introduced Lewis to the public. It also gave him a singing persona that was especially appealing to preteens and younger teenagers, as a kind of likable nerd, a sort of '60s pop culture Ur-nebbish, not too far from the pose adopted by
Peter Noone
of Herman's Hermits on songs like "Mrs. Brown, You've Got a Lovely Daughter." Every boy under age 16 whose voice ever tightened up or even squeaked slightly while pondering asking out a girl they liked -- or who simply feared being unlucky in love -- could identify with the persona that Lewis presented, while girls adored him as someone "safe." In a sense, Lewis was a successor to such teen pop idols as
Fabian
and
Frankie Avalon
, with a touch of Beaver Cleaver-ish or Wally Cleaver-ish nerdiness that fit the early to mid-'60s. It was all a long way from what
the Rolling Stones
or even
the Beatles
(apart from
Ringo
) were doing at the time, but it found an audience that also included parents and other post-teen listeners, who appreciated the smoothness and attractiveness of Garrett and
Russell
's work as producer and arranger, respectively. Some of the music was a little sappy -- "Save Your Heart for Me" wasn't even soft rock, but what one might call "wimp rock" -- but a lot of it was beautiful AM pop.
The original Playboys, later augmented by Jim Keltner on drums, held together for the first seven singles, and Lewis' career remained on track throughout 1966 with an enviable string of hits, including the beautiful "She's Just My Style," which was sort of his graduation from the nerd persona, as well as the point when he gave up playing drums to front the group as a full-time singer. Garrett and
Russell
kept the records coming and the airplay coming back, and the group even wangled a movie appearance in A Swingin' Summer, a teen comedy notable for a pre-nose job Raquel Welch in a key role. Lewis might have sustained his career well into the decade, had not the draft intervened. Called into the armed forces in December of 1966, he was forced to record when on leave, and an attempt at extending his career with recordings completed before going overseas failed.
His efforts at updating his sound with the album I'm on the Right Road Now, following his discharge late in 1968, were similarly ignored. In the two years he'd been away, a more formulaic bubblegum pop/rock had emerged from outfits such as
the Ohio Express
, which more than filled the needs of a new wave of preteens and young teen listeners, and no one wanted to hear Lewis do anything else. Rather ironically,
Russell
would emerge from the background during this same period to achieve star status doing a very different brand of rock & roll music, as would several of the musicians who played on Lewis' sessions (for years it's been assumed with some justification that Carl Radle, later of Delaney & Bonnie & Friends and
Derek and the Dominos
, who worked with
Russell
, played bass on any number of Playboys sessions, and Jim Keltner did become a star session player in the 1970s). Indeed, it was always funny watching
Leon Russell
's early-'70s younger fans, in their teens and trying to look and act cool, squirm uncomfortably when reminded, over the air or in print or elsewhere, of his previous professional life in the service of someone as a seemingly uncool as Gary Lewis. In the meantime, Lewis became a beloved denizen of the oldies circuit, fronting different groups called the Playboys. ~ Bruce Eder
full bio
Selected Discography
Similar Artists
Don't have a Pandora account? Sign up
Already have a Pandora account? Log In