Free personalized radio that
plays the music you love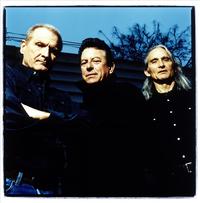 People who also like this
The 1990 compilation of the Flatlanders' entire recorded history wasn't called More a Legend Than a Band for nothing. Although the Lubbock, Texas-based group had the worst business luck this side of
Badfinger
, and never did manage a full-fledged release of their unique take on traditional country music during their early-'70s existence, the three key members --
Jimmie Dale Gilmore
,
Joe Ely
, and
Butch Hancock
-- went on to become three of Texas' most respected singer/songwriters.
Lubbock, a smallish college town in the middle of the cotton-growing flatlands of the West Texas panhandle, is both a fiercely traditional bastion of conservative values and, thanks to the surprisingly good liberal arts departments at Texas Tech University (and a relative lack of outside artistic influences), a place where creatively minded people can develop a unique and original style all their own. The Flatlanders embodied both sides of this dichotomy, which is what made their music so endlessly fascinating. The group began in 1970, when school friends
Hancock
,
Ely
, and
Gilmore
all found themselves back in Lubbock after having spent time in San Francisco, Europe, and Austin, respectively. The three musicians roomed together and began playing together as well, with various other local musicians drifting in and out of the lineup. Before long, the group's roster solidified with
Gilmore
on lead vocals,
Ely
and
Hancock
on guitar, non-musician buddy Steve Wesson on autoharp and musical saw (both of which he learned for the express purpose of joining the group), Tommy Hancock (no relation) on fiddle, Sylvester Rice on upright bass, and Tony Pearson on mandolin. The group had only a handful of gigs before they cut an album-length tape at a little studio in Odessa, Texas in 1972, but nothing came of it, and it sat in Rice's closet in Lubbock unheard for some 40 years before New West Records released it as The Odessa Tapes in 2012.
A month after that forgotten 1972 session, the group traveled to Nashville for another recording session. This one came about when the Flatlanders' manager, Lou Driver, met with another Lubbock boy, Royce Clark, a freelance producer who worked for Shelby Singleton (who at the time owned Sun Records). Far removed from its Sam Phillips glory days, Sun was at this time little more than a catalog which Singleton regularly plundered for his other labels, which included the bargain-basement reissue label Share and the barely more mainstream
Plantation Records
, whose colorful logo was a fixture in the cheap bins at variety stores and truck stops throughout the South. Clark convinced Singleton to try the Lubbock boys out, and they arrived in Nashville in March 1972, where they recorded enough material for a full album. Singleton released a promo single of the group's strongest cut, "Dallas," in late April of that year. The single attracted absolutely no radio attention, and although the album had been mastered and artwork prepared, Singleton scrubbed the release.
In 1973, Jimmie Dale & the Flatlanders was just barely released -- on eight-track only. Although the tape showed up in the aforementioned Southern variety stores and truck stops, an eight-track release on a barely extant budget label with virtually no distribution is the next thing to no release at all. The group returned to Lubbock and played a few more gigs, but Wesson, Pearson, and Tommy Hancock all left the group by the end of 1972. The core trio played a few more gigs and drifted apart more than definitively breaking up.
Normally, that would have been that, but by the end of the '70s,
Ely
and
Hancock
were cult heroes, thanks to their respective solo albums, and
Gilmore
, who had written several songs for both of them but had retired from performing while he was studying with the Guru Maharaji, was one of the hippest names for Texas music fans to drop. In the mid-'80s,
Gilmore
returned to performing in his adopted hometown of Austin, and there was even a brief Flatlanders reunion at the Kerrville Folk Festival in the late '80s. In 1990, after a couple of partial reissues of Flatlanders' material, Rounder Records released More a Legend Than a Band, which reissued the original Jimmie Dale & the Flatlanders album, replacing the covers of "Hello Stranger" and "Waiting for a Train" with four previously unreleased tracks that were recorded during the same sessions.
Almost ten years later, the group reunited to perform a track for The Horse Whisperer's soundtrack album. They enjoyed their reunion so much that they continued to perform together, recording a new album called Now Again and hitting the road for a well-received concert tour. The trio that spent 30 years between their first and second albums managed to reduce their downtime to a mere two years with the release of Wheels of Fortune in 2004; a rare concert recording from the early '70s, Live '72, also arrived that year. Five years later, the Flatlanders returned with another studio album, Hills and Valleys, which the band recorded with veteran pedal steel virtuoso (and acclaimed producer) Lloyd Maines. ~ Stewart Mason
full bio
Selected Discography
Similar Artists
Don't have a Pandora account? Sign up
Already have a Pandora account? Log In