Free personalized radio that
plays the music you love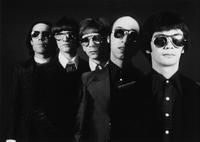 People who also like this
One of America's greatest, most influential, and legendary cult bands, Flamin' Groovies came out of the San Francisco area in 1965 playing greasy, bluesy, rock & roll dashed with a liberal sprinkling of British Invasion panache, in an era soon to be dominated by hippie culture and hyperextended raga-rock freakouts. Caught in a double bind of playing the wrong kind of music at the wrong time (as well as not looking the part), the Groovies were almost completely forgotten as the Fillmore/Avalon Ballroom scenes, dominated by
the Dead
,
the Jefferson Airplane
, et al., rendered them anachronistic. The plain truth, however, was that despite not being in tune with the zeitgeist, the Groovies made great music, and managed to sustain a career that lasted for over two decades.
What made the Groovies such a formidable band was the double dynamite supplied by guitarist Cyril Jordan and singer/wildman Roy A. Loney. Together they formed an uneasy partnership that guided the band through its most fertile period, from 1968-1971. In 1968, for next to nothing, the band recorded a seven-song EP entitled Sneakers. This little bit of DIY ingenuity resulted in a contract with Epic and the huge sum of 80,000 dollars (1968 dollars, mind you) to be spent on their debut recording, Supersnazz. It was a great album that didn't sell, but did get them dropped from Epic. Quickly signing with Kama Sutra, the Groovies closed the '60s and started the '70s with two terrific records (Flamingo and Teenage Head), but public apathy and the increasingly tempestuous relationship between Jordan and Loney led to the latter's departure for a solo career in 1971. Jordan, now free to run the band as a "benevolent" dictator and indulge his passion for a more folk-rock (read:
Byrds
) focus, hired guitarist/vocalist Chris Wilson, curiously added the apostrophe to their first name, and in 1972 moved the band to England.
Oddly enough, the Groovies had a larger, more enthusiastic following in Europe (especially in England and Germany) than they did in the States, and it seemed perfectly reasonable to assume that if great rewards were to be reaped, it would happen in Europe first. Hooking up with
Dave Edmunds
, who was keen to produce them, Jordan and company recorded a handful of songs as early as 1972. However, this seemingly natural collaboration yielded little until 1976, when the Groovies released their finest post-Loney effort, Shake Some Action. Loaded with ringing guitars, great covers, and
Edmunds
' spongy, bass-heavy production, Shake Some Action became a well-received album in punk-era Britain, as was the fine follow-up, Flamin' Groovies Now. This new notoriety brought renewed interest in the Groovies in America, but the string of good albums ended abruptly with the mostly covers and mostly forgettable Jumpin' in the Night, in 1979. Clearly, the band had run out of gas. That fact, however, did little to convince Cyril Jordan that Flamin' Groovies in any form were no longer viable.
So, after five or six years of no new music -- there were instead countless repackagings, anthologies, and lousy bootlegs -- the band ended up in Australia, now reduced to Jordan and a bunch of unknowns (with the exception of longtime bassist George Alexander), shamelessly covering '60s material and living off the band's legend. It should be noted that after his departure in 1971, Roy Loney, after a couple of music industry jobs, made some wonderful records with his band the Phantom Movers (with ex-Groovies drummer Danny Mihm). Loney occasionally worked behind the counter at Jack's Record Cellar in San Francisco, and recorded with
the Young Fresh Fellows
. ~ John Dougan
full bio
Selected Discography
Similar Artists
Don't have a Pandora account? Sign up
Already have a Pandora account? Log In