We created Pandora to put the Music Genome Project directly in your hands
It's a new kind of radio –
stations that play only music you like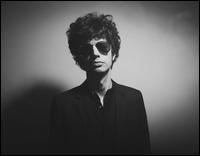 People who also like this
Federico Aubele, an Argentine singer/songwriter with an international following, creates music that incorporates a variety of styles, chief among them downtempo electronica, dub reggae, tango, and bolero. Born and raised in Buenos Aires, Aubele moved to Berlin in 2001, at the height of the Argentine economic crisis, and lived there for a few years. He later moved to Barcelona before returning to Buenos Aires. While living in Berlin, Aubele was signed to Eighteenth Street Lounge (ESL) Music, the label of
Thievery Corporation
, and made his recording debut in 2003 with a trio of double-sided 10" vinyl releases: Postales (b/w "El Amor de Este Pueblo"), Contigo (b/w "Ante Tus Ojos"), and Esta Noche (b/w "Malena"). The full-length album
Gran Hotel Buenos Aires
(2004) followed and included each of his previously released songs, along with another half-dozen.
Thievery Corporation
are credited with production, and indeed the album, particularly its dub basslines and downtempo ambience, sounds similar in tone to the duo's own work. Featured vocalists include Sumaia O and Gabriela Mairu, who sing several songs each, as well as Aubele himself.
Panamericana
(2007), Aubele's second album, was a departure from
Gran Hotel Buenos Aires
, showcasing a stronger singer/songwriter element and less of an electronica influence. Aubele played most of the instruments and sang half the songs, with
Natalia Clavier
singing the other half. Eric Hilton of
Thievery Corporation
is credited with production. In the wake of
Panamericana
's release, ESL released the La Esquina/Corazón 12" EP, which includes the two album standouts as well as accompanying remixes. This was followed by the release of
Amatoria
in 2009, a collection that reflected influences as wide-ranging as downtempo and trip-hop, reggae, boleros, flamenco, tango, and salsa, but all done with his signature subtlety. Aubele returned to his trademarked smoky realm of acoustic guitar licks, heavy rhythms, erotically charged dub atmospherics, and seductive vocals on 2011's
Berlin 13
. The set featured guest appearances from
Jesse Harris
, Karina Zeviani,
Natalia Clavier
, and Mauro Refosco (of
Forro in the Dark
-- and
Thom Yorke
's live band). ~ Jason Birchmeier, Rovi
full bio
Selected Discography
Similar Artists