We created Pandora to put the Music Genome Project directly in your hands
It's a new kind of radio –
stations that play only music you like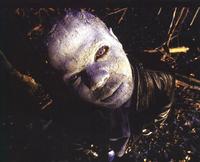 People who also like this
As an underappreciated cult artist, Esham's harsh hardcore rap thrived in this hometown of Detroit, MI, for years before an ensemble of artists with a similar style began crossing over into the mainstream in the late '90s. Long before rock acts such as
Limp Bizkit
began rapping, long before rappers such as
Kid Rock
began rocking, Esham was integrating a rock influence into his rap in the early '90s, crafting a unique style of self-declared "acid rap." In fact, this term is rather fitting, given Esham's taste for hallucinogenic rhymes revolving around paranoia, death, drugs, sex, and downright evil -- an extremely decadent synthesis of all things nightmarish. Beyond his knack for rock-influenced beats and exploitative-themed rhymes, Esham also proved himself to be a prolific artist, releasing over an album a year after debuting with his first album in 1990 at the tender age of 13. Yet despite his impressive credentials, by the end of the '90s, the Detroit rapper still hadn't extended his reach beyond his cult following, unlike other Detroit artists such as Eminem,
Kid Rock
, and
ICP
, and other similar rap groups such as Three 6 Mafia and
Brotha Lynch Hung
.
As a youth, Esham (born Rashaam Smith) divided his time between New York and Detroit, spending summers with his grandmother in the hip-hop mecca participating in that culture's mid- to late-'80s boom, while spending the remainder of the year with his mother in the depressed, post-industrial, musical melting pot of East Detroit. Given his participation in New York's burgeoning late-'80s rap movement during his summers, it wasn't that out of the ordinary that he was writing his own rhymes by the time he was ten. Yet the fact that he self-released his debut album, Boomin' Words From Hell, three years later in 1990 while a high school freshman was definitely out of the ordinary. With his older brother handling the business side of the music, including the birth of Esham's own label, Reel Life Productions, the rapper concentrated on his rhymes. Furthermore, he also happened to produce every beat on his first album in addition to busting every rhyme, a truly remarkable accomplishment given his young age, especially considering the album's still-impressive quality.
After Boomin' Words From Hell, Esham churned out two quick four-song EPs, Homey Don't Play That and Erotic Poetry, before returning in 1992 with an ambitious double album that found him furthering his descent into decadence. Titled Judgment Day and released in two separately sold volumes, the album showed the artist having evolved also in terms of rapping and production (using a broad palette of rock samples ranging from
Black Sabbath
's "War Pigs" to
Black Flag
's "Rise Above"), in addition to his more horrifying subject matter. Furthermore, Esham also debuted his group project, NATAS (supposedly an acronym for Nation Ahead of Time and Space, rather than "Satan" spelled backwards as many presume). Also featuring fellow Detroit rappers Mastamind and TNT, NATAS' debut album, Life After Death, was nearly as hardcore as Esham's solo material, though a bit more pornographic. In late 1992 came the Hellterskkkellter EP, which foreshadowed Esham's next album, 1993's KKKill the Fetus. That year also saw the release of the second NATAS album, Blaz4me, followed by the Maggot Brain Theory EP and Closed Casket, both released in 1994, and another NATAS album in 1995, Doubelievengod.
With each album following the Judgment Day series, Esham's work had continued to evolve in terms of craft, with increasingly meticulous production and better rapping. More significant, though, was the changes that took place in the beats and in the subject matter. Where Esham's early albums were soundscapes pieced together from rock samples and some lo-fi drum machines and bass guitar, his albums began to take on a more conventional production feel, using less samples and more polished beats. In addition, his rhymes didn't get any less wicked -- still obsessed with decadence -- but they did become less juvenile and more creative. By the time Dead Flowerz was released in 1996, Esham did show a move away from exploitative subject matter, though -- a change that divided his cult audience. On the one hand, it made him more accessible, and many acknowledged the fact that his lyrics relied less on exploitative themes and more on creativity. Yet on the other hand, his diehard fans loathed the fact that Esham was slowly drifting towards conventional themes, even if his music was improving. The two 1997 releases -- Bruce Wayne 1987 and NATAS' Multikillionaire -- confirmed the trend, even if the albums had their share of disturbing moments.
When Mail Dominance came out in 1999, Esham was clearly a much different rapper than he had been years earlier when he championed everything controversial. This album found him tackling conventional themes and laying down fairly conventional beats (co-produced by Jade Scott [aka Santos]); yet it's important to keep in mind that Esham still gave his music a trademark twist and instilled his dark, angry attitude into music, proving that he didn't need to rely on exploitation any longer to impress listeners. His longtime friends had a hard time accepting this, but when he returned with NATAS' WWW.Com in 2000, it was clear that Esham's career was indeed moving to the next level. On this album, he emphasized live instrumentation in his beats, including a heavy use of bass guitars, which, of course, alluded to the rap-metal of acts such as
Korn
and a reinvigorated
Kid Rock
. It's also important to note that Esham signed a distribution deal with TVT for his Overcore label (formerly Reel Life) before releasing WWW.Com, a good business move that assuring quality distribution of his albums across America. To commemorate this new deal, Esham put together Bootleg: From the Lost Vault, Vol. 1, a compilation released in 2000 including a wide array of his early material along with a few new tracks for old fans. That same year, TVT distributed re-released versions of Detroit Dog S**t (another compilation originally released in 1997) and his other major solo albums.
Following Eminem's major breakthrough in 2000 and the successive hype surrounding D-12, Esham's profile suddenly rose, and he positioned himself for a breakthrough of his own in 2001. Just before releasing his long-awaited Tongues album, Overcore released
Kool Keith
's Spankmaster album, which featured considerable contributions by Esham. And with Keith also featured on Tongues, a new audience suddenly discovered the cultish Detroit rapper. Released in summer 2001, Tongues no doubt stood as Esham's most labored album to date, a 24-track epic featuring a broad range of production styles and quick segues from one song to the next, with few songs clocking over four minutes. In an effort to promote the album, the rapper embarked on the Warped tour that summer with Keith and made sure to stir up a feud with Eminem. ~ Jason Birchmeier
full bio
Selected Discography
Similar Artists