We created Pandora to put the Music Genome Project directly in your hands
It's a new kind of radio –
stations that play only music you like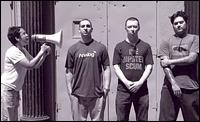 People who also like this
If Emerson Hart's name wasn't a household word when he released his first solo album, 2007's Cigarettes and Gasoline, his voice and his songs were already familiar to millions of fans from his years as the leader of the group
Tonic
. Hart was born on July 21, 1969, in South Orange, New Jersey, where as a child he became close friends with Jeff Russo. Both Hart and Russo took up the guitar in their teens, and in 1993 the two decided to put together a band; enlisting bassist Dan Rothchild and drummer Kevin Shepard, they formed
Tonic
and hit the road for Los Angeles. In 1995,
Tonic
signed with A&M Records, and they released their first album,
Lemon Parade
, which mixed the band's muscular but tuneful alternative pop/rock with rooty accents. On the strength of the singles "Open Up Your Eyes," "If You Could Only See," and "Soldier's Daughter,"
Lemon Parade
went platinum, and the band produced their 1999 follow-up,
Sugar
, with the help of Mark Endert and Nick Gatfield.
Sugar
was also
Tonic
's first album with new bassist Dan Lavery, who had signed on with the group in 1998. After contributing songs to a number of film and television soundtracks (including American Pie, X-Files: Fight the Future, and King of the Hill),
Tonic
went into the studio with hard rock producer Bob Rock in 2002 to make their third full-length,
Head on Straight
, but while the album brought the band two Grammy nominations, it was a commercial disappointment. In 2003, Hart relocated to Nashville and first stepped out as a solo artist by writing, producing, and performing the song "Generation," which became the theme song for the television series
American Dreams
, and while
Tonic
would do occasional live shows, Hart began to focus on a solo career. In 2005, he began writing songs for his first album on his own, and brought in Bob Rock, Jason Lehning, and Mike Napolitano to produce sessions in Nashville and New Orleans. In 2006, Hart signed a solo deal with the EMI-distributed Manhattan Records imprint, and the label released Cigarettes and Gasoline in the spring of 2007. The record reached 15 on Billboard's Heatseekers chart and produced two charting singles for Hot Adult Top 40: "I Wish the Best for You" and "If You're Gonna Leave." The next seven years were quiet for Hart but he re-emerged in spring of 2014 with
Beauty in Disrepair
. ~ Mark Deming, Rovi
full bio
Similar Artists