We created Pandora to put the Music Genome Project directly in your hands
It's a new kind of radio –
stations that play only music you like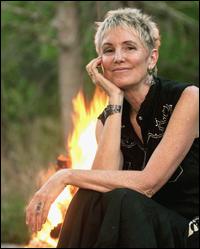 People who also like this
Folk singer/songwriter Eliza Gilkyson was born in Hollywood, California, the daughter of folk-pop singer/songwriter Terry Gilkyson (1916-1999). Her father wrote and recorded "The Cry of the Wild Goose," which
Frankie Laine
covered for a number one hit in 1950, as well as the 1953 Top Ten hit "Tell Me a Story," recorded by
Laine
Jimmy Boyd. As a performer, he was co-credited with
the Weavers
on the 1951 Top Ten hit "On Top of Old Smoky." With Richard Dehr and Frank Miller, he was a member of the Easy Riders. The three wrote the 1953 Top Ten hit "Mister Tap Toe" recorded by
Doris Day
, and they wrote and provided backing vocals on the 1957 number one hit "Memories Are Made of This" recorded by
Dean Martin
. The same year, as Terry Gilkyson & the Easy Riders, they scored their own Top Ten hit with the self-written "Marianne" and they wrote
Laine
's Top Ten hit "Love Is a Golden Ring." They also wrote the 1960 Top Ten hit "Greenfields" recorded by
the Brothers Four
. Terry later was employed by Walt Disney to write songs for and sing in its films and television programs, and his composition "The Bare Necessities" from the 1967 movie The Jungle Book earned him an Academy Award nomination.
Growing up in Hollywood, Eliza sometimes sang on her father's demos and soundtracks, along with her brother Tony Gilkyson, who later became a member of the rock bands
Lone Justice
and
X
, as well as performing on her records. Though uncredited, she can be heard singing with her father in the Disney TV movies The Secret of Romney Marsh (1964) and The Legend of Young Dick Turpin (1965). (She also had a sister, Nancy Gilkyson, who became an executive at Warner Bros. and sang on Eliza's records.) In her late teens, she moved to Santa Fe, New Mexico, where she raised a family and released her first album, Eliza '69, on Mont Clare Records. (Her son Cisco Gilliland (aka Cisco Ryder and Cisco Gilkyson) later became the percussionist in her backup band, and she also had a daughter, Cordelia Castillo (aka Delia Gilkyson), who later sang on her records). Her second foray into recording was her 1979 LP Love from the Heart, released under the name Lisa Gilkyson by Helios Records. Over the next several years, she moved to Austin, Texas, then back to Los Angeles, then to Taos, New Mexico. Again as Eliza Gilkyson, she signed to Gold Castle Records and released
Pilgrims
in 1987. The label marketed the album as a new age recording, a tag Gilkyson later rejected. She followed
Pilgrims
with
Legends of Rainmaker
(1989), which featured her cover of "Greenfields" and a duet with
Bonnie Raitt
on her own composition "Rosie Strike Back," a rock & roll song decrying spousal abuse, which had already been recorded by
Rosanne Cash
on her 1987 album
King's Record Shop
. Unfortunately, Gold Castle went bankrupt, and Gilkyson was without a record label for several years. In 1993, she was signed to Private Music, which issued Through the Looking Glass that summer. She next co-wrote eight of 14 songs and sang and played on harpist
Andreas Vollenweider
's album Eolian Minstrel, released in November, then toured with him. She moved to Europe and got divorced from her husband of 14 years, leaving her American career behind. In 1994, she released an album called Undressed overseas on Revelizatons. She returned to the U.S., settling again in Austin, and reintroduced herself to her homeland with Redemption Road, released in September 1997 on Silver Ware. "Prayer 2000," a song from the album that she co-wrote with Mark Andes (formerly of
Spirit
,
Jo Jo Gunne
,
Firefall
, and
Heart
), was later covered by
Priscilla Herdman
. In 1999, Gilkyson formed her own Realiza label and issued Misfits, a collection of previously unreleased archival recordings. She then signed to the independent folk label Red House Records for a new album, Hard Times in Babylon, released in October 2000. The opening song, "The Beauty Way," co-written with Andes, was later covered by
Ray Wylie Hubbard
, and the tour in support included an appearance on the acclaimed PBS series
Austin City Limits
; Gilkyson's
ACL
performance was released in 2007 on the album Live from Austin TX. Lost and Found followed in April 2002. Three months later, she teamed up with
Ian Matthews
and Ad Vanderveen for the trio album More Than a Song, released by Perfect Pitch. Her next Red House solo album was the politically oriented
Land of Milk and Honey
, released in March 2004. It featured the previously unrecorded
Woody Guthrie
song "Peace Call," with backup vocals by
Mary Chapin Carpenter
,
Patty Griffin
, and
Iris DeMent
, which earned a Grammy nomination for Best Contemporary Folk Album. In July 2005, she self-released RetroSpecto, a collection of rare and out of print material.
Paradise Hotel
, her fourth Red House release, appeared the following month.
Your Town Tonight
, Gilkyson's first live disc, was released two years later, followed by
Beautiful World
in May, 2008. In 2011, Gilkyson joined labelmates
John Gorka
and
Lucy Kaplansky
under the banner Red Horse and released an eponymous album. The prolific Gilkyson released another album the same year, the eclectic
Roses at the End of Time
, which was produced by her son Cisco Ryder in their home studio; they teamed up again for 2014's
The Nocturne Diaries
. ~ William Ruhlmann, Rovi
full bio
Selected Discography
Similar Artists