Free personalized radio that
plays the music you love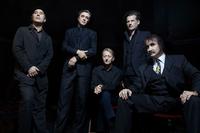 People who also like this
Along with
Cabaret Voltaire
and
Throbbing Gristle
, Germany's Einstürzende Neubauten ("collapsing new buildings") helped pioneer industrial music with an avant-garde mix of white-noise guitar drones, vocals verging on the unlistenable at times, and a clanging, rhythmic din produced by a percussion section consisting of construction materials, power tools, and various metal objects. Einstürzende Neubauten were founded by vocalist/guitarist
Blixa Bargeld
and percussionist/American expatriate N.U. Unruh in Berlin as a performance art collective; their early activities included a seemingly inexplicable half-naked appearance on the Berlin Autobahn, where the duo spent some time beating on the sides of a hole in an overpass. The group's early lineup also included percussionists Beate Bartel and
Gudrun Gut
, plus contributor and sound engineer Alexander Van Borsig
Einstürzende Neubauten's earliest recordings are mostly unstructured, free-form noise issued on various cassettes and singles, including their first single "Fuer den Untergang," the 1981 EP Schwarz, and the 1982 album Kollaps. Some of these recordings are compiled on the Strategies Against Architecture '80-'83 collection, with live shows on the cassette-only 2x4. Bartel and
Gut
were replaced by ex-Abwräts member F.M. Einheit (who served as Neubauten's chief machinery operator) in 1983, when guitarist and electronics expert
Alexander Hacke
and Abwräts bassist Mark Chung also joined. A tour of England opening for
the Birthday Party
resulted in a contract with Some Bizarre Records, which released the slightly more structured Zeichnungen des Patienten O.T., as well as consternation from club owners and journalists over Neubauten's stage demolitions and frequent ensuing violence.
When
Nick Cave
left
the Birthday Party
and formed his backing band
the Bad Seeds
,
Bargeld
became the guitarist and toured and recorded with
Cave
over most of the decade. He remained with Neubauten, however, who released Halber Mensch in 1986, showcasing their wider range of expression. The group disbanded briefly but soon re-formed, releasing albums off and on for Elektra and signing to Trent Reznor's Nothing label for 1998's Ende Neu. While
Bargeld
remained a
Bad Seed
, Van Borsig and
Hacke
contributed to the remainder of
the Birthday Party
's recordings as Crime & the City Solution. In May 2000, Einstürzende Neubauten released the full-length Silence Is Sexy on Mute Records. Two years later, they announced they were no longer interested in working with a traditional label and that their next recording would be made with the help of supporters. These supporters would pay a fee, receive exclusive material, and help fund the next official album.
Despite their best intentions, Einstürzende Neubauten released their 2004 album, Perpetuum Mobile, on Mute. The releases for supporters that appeared over the next few years helped fund the official album Alles Wieder Offen, which was released on the band's own label in 2007. Elektra reissued both Strategies Against Architecture compilations on CD, and another supporter album, Einstürzende Neubauten, arrived in mid-2007. The Jewels arrived in 2008. It was compiled from a series of single-track digital downloads the band offered via its website one at a time using a game called DAVE, where deliberate and enigmatic instructions were inscribed on cards the members drew and generated ideas from -- without telling one another what their cards were inscribed with. They were then used to construct and complete tracks within a day or two. In 2010, Mute released the compilation Strategies Against Architecture, Vol. 4, and the album Kollaps was remastered and reissued by Potomak. Their 2014 effort, Lament, was based on music composed for a World War I memorial exhibition held in Diksmuide, Belgium. ~ Steve Huey
full bio
Selected Discography
Similar Artists
Don't have a Pandora account? Sign up
Already have a Pandora account? Log In