Free personalized radio that
plays the music you love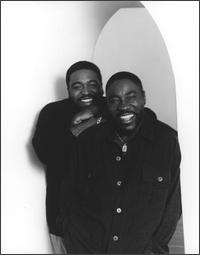 People who also like this
Eddie Levert Sr. & Gerald Levert
Eddie Levert sang lead on classic million-selling hits by Philly soul group
the O'Jays
. They were a part of the artist roster of Kenneth Gamble and Leon Huff's Philadelphia International Records. Levert could handle both emotion-soaked ballads, sweat-inducing dance numbers, and thought-provoking message songs with equal aplomb. The singer also co-wrote songs for
the O'Jays
and others: the heart-achingly poignant radio-aired LP track "Help (Somebody Please)" from their platinum LP So Full of Love; "Don't Walk Away Mad" and "Out in the Real World" from from My Favorite Person; "Just Another Lonely Night," a 1985 hit from Love Fever; "I Like to See Us Get Down" and "Keep on Loving Me" from Emotionally Yours; "Lies"; "Lonely Drifter"; "My Love Don't Come Easy," a hit for PIR labelmate
Jean Carn
; and "Wind Beneath My Wings," a duet between Eddie Levert and his son,
Gerald Levert
, on the 1995 CD Father and Son.
Eddie Levert and group member Walter Williams, both Canton, OH, natives, first met in elementary school, then formed a gospel duo. While both were students at McKinley High School, they started
the Triumphs
with fellow students William Powell (born around 1941, died May 26, 1977), Bobby Massey, and Bill Isles. The group was signed to King Records and renamed
the Mascots
(not to be confused with the Swedish 1960s rock group) by label president Syd Lathan, recording four sides in 1961.
The group then came under the mentorship of Cleveland, OH, radio DJ Eddie O'Jay. Because of his help, they changed the group's name to
the O'Jays
. The DJ introduced the group to Detroit-based producer Don Davis who recorded "Miracles" on the Daco label, which was then picked up by New York label Apollo Records. Eddie O'Jay connected the group with former Dootones member H.B. Barnum. Barnum, an arranger of note in the years to come (
O.C. Smith
's gold single "Little Green Apples"), smoothed out the group's harmonies and helped to get them a deal with Imperial Records. Their first charting single was "Lonely Drifter," which charted at number 93 R&B in fall 1963. Their debut album, Comin' Through, was issued in November 1965. Switching to Bell Records,
the O'Jays
got their first Top Ten R&B single with "I'll Be Sweeter Tomorrow (Than I Was Today)" (number eight R&B in late 1967) produced by
George Kerr
. In 1967, Minit Records issued an album on the group, Soul Sounds.
Around 1969,
the O'Jays
were performing at New York's Apollo Theater, part of a concert bill that included
the Intruders
who were riding high off the million-seller "Cowboys and Girls," "(Love Is Like A) Baseball Game," and "Slow Drag." They suggested that their producers Kenneth Gamble and Leon Huff listen to
the O'Jays
. Signing to Gamble & Huff's Neptune label distributed by Chicago's Chess Records, their first single for the Philadelphia-based producers, "One Night Affair," went to number 15 R&B in the summer of 1969. After Chess folded, Gamble & Huff set up Philadelphia International Records and secured a distribution deal with CBS Records. After some negotiations and counter offers from Motown and Holland/
Dozier
/Holland's Invictus label,
the O'Jays
signed with PIR. Their first single written by Huff, Gene McFadden, and John Whitehead, the million-selling "Backstabbers" went to number one R&B and number three pop on Billboard's charts in summer 1972. It was on the LP Backstabbers (number three R&B, number ten pop, fall 1972), which also went gold and yielded "Time to Get Down" (number two R&B for two weeks) and another gold number one R&B single, "Love Train," from early 1973. The classic ballad "Sunshine," written by
Bunny Sigler
and Phil Hurtt, was a popular radio-aired LP track.
The hits kept coming: Ship Ahoy held the number one R&B spot for five weeks in late 1973 and included the singles "Put Your Hands Together," "For the Love of Money," "You Got Your Hooks in Me," "Now That We Found Love" -- later a hit for
Third World
-- "Don't Call Me Brother" -- later covered by
Instant Funk
on Kinky, and the environmentally themed "The Air I Breathe." The O'Jays Live in London went gold and held the number two R&B spot for two weeks and included the single "Sunshine." Survival went gold and held the number one R&B spot for two weeks in spring 1975 and included the singles "Give the People What They Want," "Let Me Make Love to You" b/w "Survival," "Where Did We Go Wrong," "How Time Flies," and "Never Break Us Up." Family Reunion went platinum and held the number one R&B and number seven pop spot in late 1975 and included the singles "Livin' for the Weekend" b/w "Stairway to Heaven" -- not the
Led Zeppelin
favorite -- and "I Love Music." Message in the Music went gold gold and hit the number three R&B spot in late 1976 and included the singles "Message in ihe Music," "Darlin Darlin' Baby (Sweet Tender Love)," "My Prayer," "Desire Me," and the interesting "I Swear I Love No One but You." So Full of Love went platinum and held the number one R&B spot for three weeks and hit number six pop in spring 1978. It included the singles "Use Ta Be My Girl" and the extremely funky "Strokety Stroke."
The O'Jays left Philadelphia International Records and signed with EMI-Manhattan Records where Levert and Williams began co-writing and producing their tracks. Their EMI debut, Let Me Touch You, went to number three R&B and boasted "Lovin' You," the number one R&B hit from summer 1987. The O'Jays continued to perform in front of enthusiastic audiences well into the year 2000.
Eddie Levert-related releases are Carlito's Way,
Patti Labelle
's Live! One Night Only, Levert's Bloodline, Down in the Delta and Have a Merry Chess Christmas. Something to Talk About, recorded with son Gerald, was released in 2007. ~ Ed Hogan, Rovi
full bio
Selected Discography
Similar Artists
Don't have a Pandora account? Sign up
Already have a Pandora account? Log In