We created Pandora to put the Music Genome Project directly in your hands
It's a new kind of radio –
stations that play only music you like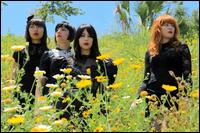 People who also like this
Since they emerged at a time when C-86-inspired acts like
Vivian Girls
and
the Pains of Being Pure at Heart
were in vogue, it's little wonder that California's Dum Dum Girls -- a group whose '60s-inflected lo-fi pop brings to mind acts like
Black Tambourine
and Dolly Mixture -- became something of a sensation on the indie circuit soon after the release of their first single. In 2008, lead singer Kirstin Gundred (aka Dee Dee) began making solo recordings as Dum Dum Girls, deriving the name both from
the Vaselines
' album
Dum-Dum
and from the
Iggy Pop
song "Dum Dum Boys." Over the course of the next year, Dee Dee released a couple singles (a 7" single on Hozac, a four-way split single on Art F*g), a 12" EP (Yours Alone, released via Captured Tracks), and a compilation disc appearance (on Art F*g's Blissed Out cassette comp). Thanks to the high level of buzz surrounding Dee Dee (and, of course, the quality of the records), Sub Pop signed Dum Dum Girls in 2009.
Dum Dum Girls' first Sub Pop single, "Jail La La," was released in early 2010, with the debut album
I Will Be
following soon after. Both recordings were mostly done by Dee Dee at home (with some help from Nick Zinner and
Crocodiles
' Brandon Welchez) and then expertly produced in the studio by Richard Gottehrer, who had formerly worked with
the Go-Go's
and
Blondie
. Before the album's release, Dee Dee teamed up with guitarist Jules, bassist Bambi, and drummer
Frankie Rose
(formerly of like-minded groups
Crystal Stilts
and
Vivian Girls
) to form a live band.
Rose
left the band in June of 2010 and was replaced by drummer named Sandra Vu, who was with the band when its fall tour of the U.S. was canceled due to the passing of Dee Dee's mother. After spending some time regrouping, the band began playing more shows as the year drew to a close. In 2011, the
He Gets Me High
EP was released. Recorded just before her mother's death, the record was cut by Dee Dee without her band, and was produced again by Gottehrer with help from
the Raveonettes
' Sune Rose Wagner. On the personnel front, Bambi left the band in late 2011, making way for Malia James. A full-length sophomore album,
Only in Dreams
, appeared later that year. The album featured Dee Dee's bandmates and revolved around the pain of her mother's death. In autumn of 2012, End of Daze, an EP consisting of tracks recorded just after the
Only in Dreams
sessions, plus songs recorded a year later, was released. ~ Margaret Reges, Rovi
full bio
Selected Discography
Similar Artists