We created Pandora to put the Music Genome Project directly in your hands
It's a new kind of radio –
stations that play only music you like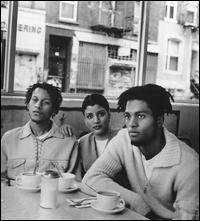 People who also like this
Though they were not the first to synthesize jazz and hip-hop, Digable Planets epitomized the laid-back charm of jazz hipsters better than any group before or since. The trio's 1993 debut album,
Reachin' (A New Refutation of Time and Space)
, was a mellow ride packed with samples from
Art Blakey
,
Sonny Rollins
, and
Curtis Mayfield
, and the single "Rebirth of Slick (Cool Like Dat)" became a Top 20 pop hit. After earning a Grammy for Best New Duo or Group and embarking on an ambitious tour that included several live musicians, the Planets returned in late 1994 with their best album yet.
Blowout Comb
continued the group's jazz-rap fusion, but also saw them branching out to embrace the old school sound of the street as well.
Digable Planets formed in the early '90s, when Butterfly (b. Ishmael Butler, Brooklyn, NY) met Ladybug (b. Mary Ann Vieira, Silver Springs, MD) while attending college in Massachusetts. The two later hooked up with Doodlebug (b. Craig Irving, Philadelphia, PA), in Washington, D.C., and began recording. Their first single, "Rebirth of Slick (Cool Like Dat)," released on the Pendulum subsidiary of Warner, hit the R&B Top Ten while their debut,
Reachin' (A New Refutation of Time and Space)
, was a critical and commercial success. Digable Planets' resulting tour had a laid-back vibe more in keeping with a jazz show than any hip-hop concert, though the live musicians were criticized for doing little more than re-creating samples from the album. The trio solved that problem with the release of their second album,
Blowout Comb
, in late 1994. Much stronger than its predecessor, it used fewer samples and even included several solos. With no strong single to carry it, however,
Blowout Comb
's sales performance was not up to that of
Reachin'
. After
Blowout Comb
, Digable Planets basically dissolved due to the dreaded "creative differences". All three continued making music separately, but despite many promises that the recordings would become actual releases, nearly a decade passed before releases appeared from Butterfly's Cherrywine project, Ladybug's new billing Ladybug Mecca, and Doodlebug's Cee Knowledge. Then, just a few weeks shy of the ten-year anniversary of
Blowout Comb
, the three announced that they had reunited to record their third Digable Planets album. A compilation, Beyond the Spectrum: The Creamy Spy Chronicles, filled the gap while fans waited for its release. ~ John Bush, Rovi
full bio
Selected Discography
Similar Artists