We created Pandora to put the Music Genome Project directly in your hands
It's a new kind of radio –
stations that play only music you like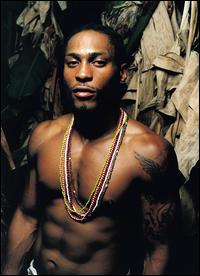 People who also like this
D'Angelo was one of the founding fathers and leading lights of the neo-soul movement of the mid- to late '90s, which aimed to bring the organic flavor of classic R&B back to the hip-hop age. Modeling himself on the likes of
Marvin Gaye
,
Stevie Wonder
,
Prince
,
Curtis Mayfield
, and
Al Green
, D'Angelo's influences didn't just come across in his vocal style -- like most of those artists, he wrote his own material (and frequently produced it as well), helping to revive the concept of the R&B auteur. His debut album,
Brown Sugar
, gradually earned him an audience so devoted that the follow-up,
Voodoo
, debuted at number one despite a five-year wait in between.
Michael D'Angelo Archer was born February 11, 1974, in Richmond, VA, the son of a Pentecostal minister. He began teaching himself piano as a very young child, and at age 18, he won the amateur talent competition at Harlem's Apollo Theater three weeks in a row. He was briefly a member of a hip-hop group called I.D.U. and signed a publishing deal with EMI in 1991. His first major success came in 1994 as a writer/producer, helming the single "U Will Know" on the Jason's Lyric soundtrack; it featured a one-time, all-star R&B aggregate dubbed Black Men United. That helped lead to his debut solo album, 1995's
Brown Sugar
. Helped by the title track and "Lady,"
Brown Sugar
slowly caught on with R&B fans looking for an alternative to the hip-hop soul dominating the urban contemporary landscape; along with artists like
Erykah Badu
,
Lauryn Hill
, and
Maxwell
, D'Angelo became part of a retro-leaning, neo-soul revivalist movement.
Brown Sugar
received enormously complimentary reviews and sold over two million copies, and D'Angelo supported it with extensive touring over the next two years.
And then -- not much of anything happened. D'Angelo took some time off to rest and split acrimoniously with his management; meanwhile, EMI went under, leaving his 1998 stopgap release Live at the Jazz Cafe out of print. On occasion, D'Angelo contributed a cover tune to a movie soundtrack, including
Eddie Kendricks
' "Girl You Need a Change of Mind" (Get on the Bus),
the Ohio Players
' "Heaven Must Be Like This" (Down in the Delta), and
Prince
's "She's Always in My Hair" (Scream 2). He also duetted with
Lauryn Hill
on "Nothing Really Matters," a cut from her Grammy-winning blockbuster
The Miseducation of Lauryn Hill
. Still, fans awaiting a proper follow-up to
Brown Sugar
remained frustrated -- at first by no news at all, and then by frequent delays in the recording process and the scheduled release date. Finally, the special-guest-laden
Voodoo
was released in early 2000 and debuted at number one, an indication of just how large -- and devoted -- D'Angelo's fan base was. The extremely
Prince
-like lead single, "Untitled (How Does It Feel)," was a smash on the R&B charts and won a Grammy for Best Male R&B Vocal; likewise,
Voodoo
won for Best R&B Album. Reviews of
Voodoo
were once again highly positive, although a few critics objected to the looser, more atmospheric, more jam-oriented feel of the record, preferring the tighter songcraft of
Brown Sugar
. ~ Steve Huey, Rovi
full bio
Selected Discography
Similar Artists