We created Pandora to put the Music Genome Project directly in your hands
It's a new kind of radio –
stations that play only music you like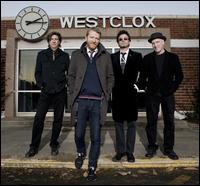 People who also like this
During Cracker's heyday in the 1990s, the Virginia-based band molded elements of alternative pop/rock and country into several irreverent, buzzworthy anthems. Singer/guitarist
David Lowery
made no attempt to mask his affinity for traditional roots music, but his own background was far from traditional, as he spent the '80s fronting the quirky alternative outfit
Camper Van Beethoven
. Shortly after
Camper Van Beethoven
embarked on a long hiatus in 1990,
Lowery
began demoing new material with guitarist
Johnny Hickman
and bassist Davey Faragher. The three musicians named the project Cracker (although several of those early demos would later surface under the title David Lowery Demo Mixes) and set up their headquarters in Richmond, VA. By 1991, the band had signed a recording contract with Virgin Records and enlisted the help of several drummers (Jim Keltner, Rick Jaeger, and Phil Jones), all of whom helped shape the sound of Cracker's debut album.
Cracker released their self-titled debut in 1992. Filled with guitar-driven rock songs and gravelly vocals, the album established Cracker's presence in the rock arena, and "Teen Angst (What the World Needs Now)" became a number one modern rock single. A year later, the sophomore effort
Kerosene Hat
spawned another popular MTV/radio hit with "Low," which charted in the U.K. and also cracked the pop charts in America. The album went platinum as a result. By the time
Golden Age
arrived in 1996, however, the band's hitmaking lineup had begun to splinter. Bassist Faragher was replaced by Bob Rupe, while the drum spot was occupied by a trio of players: Charlie Quintana, Eddie Bayers, and Johnny Hott.
Golden Age
spun off another hit with "I Hate My Generation," and the band toured in support of its release. After returning home from the road,
Lowery
began focusing on his Richmond-based recording studio, Sound of Music, where he produced such artists as
Joan Osborne
,
Lauren Hoffman
, Magnet, Fighting Gravity, and
Sparklehorse
. He also co-produced
the Counting Crows
along with former
Camper Van Beethoven
producer Dennis Herring.
Lowery
's work wasn't limited to the music world, however, as he co-starred in director Eric Drilling's independent film River Red (also composing the film's score) and appeared in another film, director Matt Leutwyler's This Space Between Us.
By the end of the decade, Cracker seemed to have settled on a somewhat permanent lineup comprised of drummer Frank Funaro, keyboardist/accordion player Kenny Margolis, and the preexisting core of
Lowery
,
Hickman
, and Rupe. This version of the band issued 1998's Gentleman's Blues, a more reflective album that saw the musicians paying homage to Southern rock and blues.
Camper Van Beethoven
unexpectedly re-formed shortly thereafter, and
Lowery
began splitting his time between both bands, whose other members frequently joined whichever group was on the road.
Cracker (along with select musicians from
CVB
) issued a live album, 2001's Traveling Apothecary Show & Revue, and Cracker followed its release with
Forever
(2002) and a rowdy set of country covers called
Countrysides
in 2003. The latter album also marked Cracker's first effort as an independent band, as they had recently left the Virgin roster. Three years later, Cracker returned (this time via the U.K.-based indie label Cooking Vinyl) with
Greenland
, which featured help from guest artists David Immerglück and Mark Linkous. Another concert release, Berlin (Live in Berlin December 2006), arrived in 2008, and the studio effort
Sunrise in the Land of Milk and Honey
which cracked Billboard's Top 200 chart, followed one year later in 2009. That same year the band went on a tour of Iraq, playing for U.S. troops while working on the "Yalla Yalla" video which was produced by compiling YouTube videos of American soldiers stationed overseas. Public radio network NPR profiled the tour on their weekly series The Show. A year later the band played a series of sold-out shows with Camper Van Beethoven duubed the 2010 Traveling Apothecary Tour. ~ Andrew Leahey & Greg Prato, Rovi
full bio
Selected Discography
Similar Artists