We created Pandora to put the Music Genome Project directly in your hands
It's a new kind of radio –
stations that play only music you like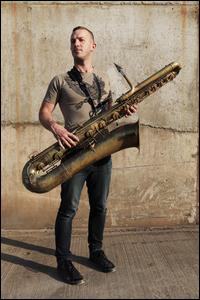 People who also like this
Woodwind player Colin Stetson can play powerfully while circularly breathing for long periods, can draw multiphonics out of a sax with great skill, and can command an audience's attention with his focus and melodic improvisations. Stetson was born and raised in Ann Arbor, Michigan, where he became proficient on assorted saxophones, clarinet, and flute. He earned a degree in music from his hometown school the University of Michigan in 1997, studying with
Roscoe Mitchell
, Donald Sinta, and Christopher Creviston; afterward, he went on to study with Steve Adams and
Henry Threadgill
as well. While still in college, he co-founded Transmission (which later became Transmission Trio), and in 1998 he played with progressive Detroit-area jazz-rockers
Larval
on their Knitting Factory album Larval 2. He moved to the San Francisco Bay Area that summer along with the rest of Transmission, who released their first album in 1999.
Stetson also branched out to play with the People's Bizarre, a chamber jazz group influenced by Eastern European folk, and Connector, which blended acoustic and electronic instrumentation. In the meantime, he also played live with the likes of
Fred Frith
, Peter Kowald,
Ned Rothenberg
, and Kenny Wollesen, and kept up his Detroit/Ann Arbor connections as well. Before moving west, he had played on his friend
Recloose
's debut EP for Planet E, and their collaborations continued over the years, culminating in the DJ's acclaimed full-length
Cardiology
in 2002. Also that year,
Tom Waits
tapped Stetson for reed work on his
Alice
and Blood Money albums, which led to significant exposure and a live performance on
The Late Show with David Letterman
.
Stetson had a limited-edition 3" CD release of a 2002 performance at the Artship in Oakland, and his full-length debut as a leader came in the summer of 2003 with the quintet recording Slow Descent. In 2008, Stetson delivered the primarily solo saxophone album New History of Warfare, Vol. 1. He returned in 2011 with the excellent
New History of Warfare, Vol. 2: Judges
, which featured spoken word sections from avant-garde singer
Laurie Anderson
, and later in the year, he released an EP, Those Who Didn't Run. He has toured with
Arcade Fire
and
Belle Orchestre
, and recorded with scores of artists, including
Anthony Braxton
and
Bon Iver
. In 2013, Stetson returned with
New History of Warfare, Vol. 3: To See More Light
. The only overdubs on this atmospheric album came in the form of guest vocals by
Bon Iver
's Justin Vernon. ~ Steve Huey, Rovi
full bio
Selected Discography
Similar Artists