Free personalized radio that
plays the music you love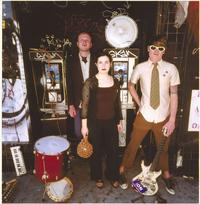 People who also like this
Known for their raw, primal, stripped-down approach, Coachwhips have epitomized rock & roll at its most basic. Their infectious, riff-driven recordings of the 2000s have combined garage rock with punk and alternative rock; however, the San Francisco-based trio is quite different from the neo-garage bands that have come from the New York scene (especially Brooklyn) in the 21st century. New York-based neo-garage bands like
the Strokes
and
the Blam
have had more of a power pop outlook -- their work, although rockin', is melodic and tuneful, whereas Coachwhips are noisy and distorted. Coachwhips get some of their inspiration from the '60s output of
the Kinks
and
the Rolling Stones
, but they have a reckless aggression and a lack of polish that underscores their appreciation of the punk and alternative rock of the '80s and '90s.
Clearly, lead singer/guitarist
John Dwyer
is someone who thrives on grit; his guitar playing is consistently dirty, and his vocals are consistently distorted -- so distorted, in fact, that it is often difficult to understand the lyrics that are coming out of his mouth. One reviewer put it best when he wrote that
Dwyer
sounds like he's singing into a beaten up, worn-out pay phone -- which, of course, is exactly how he wants his vocals to sound. Coachwhips aren't the only group on
Dwyer
's résumé. The threesome's leader (who is originally from Providence, RI) has also played guitar for Bay Area groups that have included Dig That Body Up It's Alive and the duo Pink & Brown (which also included drummer Jeff Rosenberg --
Dwyer
was Pink, while Rosenberg was Brown). Coachwhips started recording in 2001, when
Dwyer
got together with drummer John Harlow and keyboardist/tambourine player Mary Ann McNamara (whose keyboard playing has favored an organ-like sound).
Coachwhips' debut album, Hands on the Controls, was released on Black Apple Records in early 2002; their second album, Get Yer Body Next Ta Mine, was released on CD by New York's independent Narnack label in 2003. Meanwhile, the Show & Tell label has put out a vinyl LP version of Get Yer Body Next Ta Mine. Over the next two years, Coachwhips kept up their frenetic pace, both in their music and their release schedule. Just before recording 2004's Bangers vs F**kers, Harlow and McNamara were replaced by keyboardist Val-Tronic and drummer Mat Hartman, who were on board for 2005's Peanut Butter and Jelly Live at the Ginger Minge, which ended up being the final Coachwhips album.
Dwyer
continued to work with his folk-noise outfit
OCS
and started another project, Yikes, after Coachwhips' demise. The 2006 CD/DVD set Double Death gathered most of the band's recorded loose ends and celebrated their frenetic live act. ~ Alex Henderson
full bio
Selected Discography
Similar Artists
Don't have a Pandora account? Sign up
Already have a Pandora account? Log In