Free personalized radio that
plays the music you love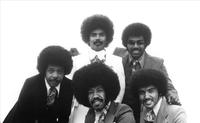 People who also like this
One of the most popular smooth soul groups of the early '70s didn't hail from Philadelphia or Memphis, the two cities known for sweet, string-laden soul. Instead, the Chi-Lites were from Chicago, a town better known for its gritty urban blues and driving R&B. Led by vocalist Eugene Record, the Chi-Lites had a lush, creamy sound distinguished by their four-part harmonies and layered productions. During the early '70s, they racked up 11 Top Ten R&B singles, ranging from the romantic ballads "Have You Seen Her" and "Oh Girl" to protest songs like "(For God's Sake) Give More Power to the People" and "There Will Never Be Any Peace (Until God Is Seated at the Conference Table)." All the songs featured Record's warm, pleading tenor and falsetto, and the majority of the group's hits were written by Record, often in collaboration with other songwriters like
Barbara Acklin
.
The Chi-Lites had been around for nearly a decade before they finally had a hit in the late '60s. Eugene Record, Robert Lester, and Clarence Johnson formed the doo wop group the Chanteurs in the late '50s, and they released one single on Renee Records in 1959. Shortly afterward, Creadel "Red" Jones and Marshall Thompson, who had sung with the Desideros, teamed with the trio to form the Hi-Lites. Over the next four years, the Hi-Lites released a number of singles on local labels. In 1964, they changed their name to Marshall & the Chi-Lites, adding the "C" as tribute to their hometown Chicago. By the end of the year, Johnson left the group and the remaining quartet truncated their name to the Chi-Lites. Over the next four years, the group continued to perform and release independent singles, with Record slowly emerging as the group's lead singer, songwriter, and producer.
In 1968, the Chi-Lites signed with the large Chicago indie label Brunswick Records, and early the following year "Give It Away" became their first national hit single, reaching number ten on the R&B charts. Despite the moderate success of "Let Me Be the Man My Daddy Was," the group wasn't able to deliver another big hit until "Are You My Woman? (Tell Me So)" climbed into the R&B Top Ten in early 1971, beginning a string of ten Top Ten hits that ran intermittently over the next four years. The follow-up to "Are You My Woman?," "(For God's Sake) Give More Power to the People," was their first pop hit, setting the stage for a pair of slow, soulful ballads, "Have You Seen Her" and "Oh Girl," which both reached number one on the R&B charts; the latter was a number-one pop hit, as well. in the spring of 1972.
Shortly after the release of the hit "Stoned Out of My Mind," the Chi-Lites began to splinter in 1973, when Jones left the group and was replaced by Stanley Anderson, who was quickly replaced by Willie Kensey. The revamped lineup had three Top Ten R&B hits -- "Homely Girl," "There Will Never Be Any Peace (Until God Is Seated at the Conference Table)," and "Toby" -- before they replaced Kensey with Doc Roberson. Shortly afterward, Brunswick became involved in serious financial problems, which prevented the label from promoting the group's record. Frustrated, Record left the band to become a solo recording artist for Warner Bros. The remaining trio, augmented by David Scott and Danny Johnson (who was replaced by Vandy Hampton in 1977), signed with Mercury, but none of their singles were hits.
The original lineup of the Chi-Lites re-formed in 1980, and the group began recording for Eugene Record's label, Chi-Sound. Although their first singles were more successful than their Mercury Records, they didn't have a genuine hit until 1982, when "Hot on a Thing (Called Love)" reached number 15. The following year, they moved to Larc Records, where they had their final Top Ten hit with "Bottoms Up." Late that year, Creadel Jones retired and the group continued to tour as a trio throughout the remainder of the decade. Record left the group in 1990 to record as a solo artist. He was replaced by Anthony Watson. By the early '90s, Jones had re-joined the group, and this version of the Chi-Lites became a regular on the oldies and soul circuit during the '90s. ~ Stephen Thomas Erlewine
full bio
Selected Discography
Similar Artists
Don't have a Pandora account? Sign up
Already have a Pandora account? Log In