We created Pandora to put the Music Genome Project directly in your hands
It's a new kind of radio –
stations that play only music you like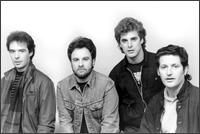 People who also like this
Despite great critical acclaim due to their literate, passionate rock, praise from some well-respected contemporaries, and a string of strong releases, the San Francisco band the Call never quite escaped cult status. The predicted breakthrough to a wider audience never materialized. Formed in the San Francisco area in 1980, the quartet, led by vocalist/guitarist Michael Been, released their self-titled debut in 1982 and earned positive reviews. The following year, the band issued Modern Romans and managed to broaden their fan base when "The Walls Came Down" became a minor hit single. In 1984, keyboardist Jim Goodwin replaced bass player Scott Freeman to round out the lineup for the release of Scene Beyond Dreams, which despite receiving more critical acclaim, failed to build on their commercial momentum.
Reconciled
followed in 1985 and featured guest appearances by
Peter Gabriel
(who had once referred to the band as "the future of American music") and
Robbie Robertson
. Both "I Still Believe" and "Everywhere I Go" achieved significant airplay on college rock and AOR stations, giving a boost to the band's profile.
The Call scaled back a bit from the anthemic feel of
Reconciled
for
Into the Woods
, but managed to score again at college rock outlets with the somber "In the River." Been took time out from the band in 1988 to appear as the apostle John in Martin Scorsese's
Last Temptation of Christ
. The band switched labels from Elektra to MCA in 1989, edging back into more radio-friendly territory with Let the Day Begin. The rousing title track became their biggest hit to date, topping the AOR charts and reaching number 51 on the pop charts, propelling the album to become their highest-charting release. Despite the success, when they returned with Red Moon, the Call had scaled back their sound, embracing an organic, more roots-oriented feel that recalled
the Band
(not surprising, as that act's
Garth Hudson
and
Robbie Robertson
had both guested on earlier albums).
Perhaps their most mature and fully realized album, Red Moon made little impact beyond the Call's core audience (despite Bono lending vocals to "What's Happened to You?"). Been tested the waters as a solo artist and released the harder-edged On the Verge of a Nervous Breakthrough in 1994, managing to gain a bit of airplay with "Us." The Call was given the compilation treatment on a couple releases in the '90s, and reunited for Heaven & Back in 1997 and a tour. They subsequently issued a live record,
Live Under the Red Moon
, three years later. In 2010, Been died of a heart attack while touring (and working as a soundman) with
Black Rebel Motorcycle Club
, founded by his son Robert Levon Been. Three years later, the Call reunited for a string of concerts with Robert on bass and vocals which resulted in a 2014 live album. ~ Tom Demalon, Rovi
full bio
Selected Discography
Similar Artists