We created Pandora to put the Music Genome Project directly in your hands
It's a new kind of radio –
stations that play only music you like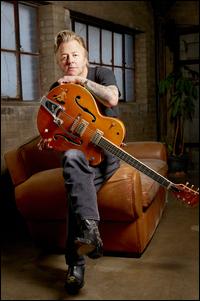 People who also like this
With his guitar chops and retro-chic frontman persona, Brian Setzer helped launch two unlikely revivals during his career: rockabilly and swing. Born in Massapequa, New York, he spent most of his youth in nearby Long Island, where he received his first instrument -- the euphonium -- at age eight. He played the tuba-like instrument for ten years and dreamt of fronting a big band with horns, although the discovery of punk music during his teens expanded his tastes beyond jazz. He began devoting time to both genres; his early attempts at songwriting would take their cues from blues-rock bands like
Led Zeppelin
, but he'd also spend his evenings in New York jazz clubs, sneaking into places like the Village Vanguard and the Village Gate. After seeing the Mel Lewis Orchestra, he formed the idea of leading his own big band -- but doing so as a guitarist.
In the early '80s, Setzer formed the Stray Cats, a rockabilly band that took England by storm before coming back home to convert audiences in the U.S.
The Stray Cats
' breakthrough album in America,
Built for Speed
, spurred three separate Top Ten hits, including "Stray Cat Strut" and "Rock This Town." While touring the country with the Stray Cats, Setzer practiced jazz chords and listened to the recordings of
Gene Krupa
,
Benny Goodman
, and other big-band leaders. After the group's demise (and a largely unsuccessful turn as a solo roots rocker), Setzer turned to jazz music by forming a 17-piece big band for a series of L.A. club dates.
After cutting an album of cover songs for a smaller label, Setzer took his big band to Interscope Records, which issued
Guitar Slinger
in 1996. The album blended jump blues, swing, and Texas blues; moreover, it established the Brian Setzer Orchestra as part of the swing revival, a genre that had begun gaining popularity in America thanks to groups like
Big Bad Voodoo Daddy
and
Squirrel Nut Zippers
. The revival was in full swing by the time
The Dirty Boogie
appeared in 1998, and the band's cover of
Louis Prima
's "Jump Jive an' Wail" became a huge hit, resulting in two Grammy Awards and a healthy amount of radio airplay.
Vavoom!
followed in 2000 and Ignition! appeared 2001, although neither managed to go platinum like
The Dirty Boogie
. In 2002, Setzer added a Christmas album (Boogie Woogie Christmas) to his résumé, followed by the greatest-hits anthology Jump, Jive an' Wail: The Best of the Brian Setzer Orchestra 1994-2000.
Although he continued working with the Brian Setzer Orchestra in the 2000s, Setzer also set time aside to work on his solo career, having released a number of solo albums during the previous two decades as well. He issued a Japanese EP in 2003 -- the
Sinatra
-inspired Luck Be a Lady -- as a prelude to the rocking and decidedly horn-deficient full-length
Nitro Burnin' Funny Daddy
, which followed several months later.
Rockabilly Riot, Vol. 1: A Tribute to Sun Records
appeared in 2005, and Setzer closed out the year with another big-band holiday album, Dig That Crazy Christmas. The aptly titled
13
, which marked Setzer's 13th album of original solo material, arrived in late 2006 and became a big hit in Japan, where the song "Back Streets of Tokyo" cracked the Top Five.
A pair of live albums, One Rockin' Night: Live in Montreal and
Red Hot & Live!
-- the latter drawing its material from a 2006 show in Japan -- both appeared in 2007. The Brian Setzer Orchestra returned to the recording studio for 2009's
Songs from Lonely Avenue
, but they were back on the road before the year's end, with another concert album (
Don't Mess with a Big Band
, released in 2010) celebrating their endurance as a live act. In 2011, Setzer released the non-vocal album
Setzer Goes Instru-MENTAL!
, featuring his instrumental take on such classic songs as "Blue Moon of Kentucky," "Be-Bop-A-Lula," "Cherokee," and others. The live collection Rockabilly Riot! Live From the Planet, featuring performances recorded during his 2011/2012 wordl tour, followed in 2012. ~ Richard Skelly & Andrew Leahey, Rovi
full bio
Selected Discography
Similar Artists