Free personalized radio that
plays the music you love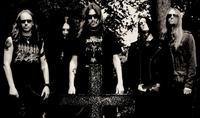 People who also like this
It isn't uncommon for metal bands through the years to abandon or shift styles, starting out as death or black metal outfits and transforming -- for a number of reasons, including development of skill, musical maturity, a need to explore new territory, new members, different production, etc. -- into something quite different. Some bands have shed black metal cacophony for symphonic power metal; others have left death metal behind for more textural and technical progressive pastures. For members of such legendary Swedish metal bands as
Opeth
,
Katatonia
, and -- well, Dan Swanö was a force unto himself -- the desire to start a project that would protect and promote a "purer" version of Swedish death metal was one of the utmost importance; hence the creation of Bloodbath, arguably not only a pursuit of the maintenance of the style, but an opportunity for bandmembers to do something a little different stylistically than that of their "main" bands.
Formed in Stockholm in 1999, the original lineup of this Swedish death supergroup, Mikael Åkerfeldt (
Opeth
,
Katatonia
, Steel), Anders "Blakkheim" Nyström (
Katatonia
,
Bewitched
), Jonas Renske (
Katatonia
), and the aforementioned Dan Swanö (who worked with just about every Swedish metal band and musician in some way or another), released their debut EP, Breeding Death, in 2000. The EP created quite a stir, and the band was moved to record and release a full-length. That album, Resurrection Through Carnage, hit stores in 2002. With
Opeth
's star rising, Åkerfeldt took leave of Bloodbath in 2004, and Swanö made the jump from drums to guitar. In order to cover the vacancies left by all the moving around, Bloodbath roped in
Hypocrisy
vocalist Peter Tägtgren and
Witchery
(and eventually
Opeth
) drummer Martin "Axe" Axenrot. This new version of Bloodbath made a quick turnaround and released album number two, Nightmares Made Flesh, in 2004.
Although the band had become somewhat more serious -- not so serious that
Katatonia
were in any danger, mind you -- 2005 would see the departure of Tägtgren, but it would also see the return of Åkerfeldt, even if for just one event, the band's well-received -- and not to mention exceedingly rare -- live appearance at that year's Wacken Open Air Festival in Germany. Swanö would also call it a day after the show, and the next couple of years saw Bloodbath keeping a low profile, looking for a new vocalist and a new guitarist. In 2007, Bloodbath returned to the metal public's attention, announcing new guitarist Per "Sodomizer" Eriksson (21 Lucifers, Genocrush Ferox) and that the band was working on a new EP, to be entitled Unblessing the Purity. In January of 2008, Åkerfeldt returned to the fold as the group's vocalist, and took on vocal duties on the EP, which was released in March of that year. The four-song EP was then followed by the long-awaited live CD/DVD of the infamous 2005 Wacken Festival gig, entitled The Wacken Carnage, and the group's third full-length outing, The Fathomless Mastery. 2012 saw Åkerfeldt leave the fold again, and in 2014 the band brought in
Paradise Lost
vocalist Nick Holmes to fill the vacancy. Holmes' debut outing with the group, 2014's Grand Morbid Funeral, also featured guest appearances from
Autopsy
's Chris Reifert and Eric Cutler. ~ Chris True
full bio
Selected Discography
x
Track List:
Breeding Death (Single) (Explicit)
Similar Artists
Don't have a Pandora account? Sign up
Already have a Pandora account? Log In