We created Pandora to put the Music Genome Project directly in your hands
It's a new kind of radio –
stations that play only music you like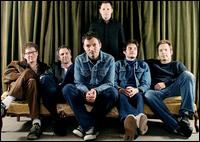 People who also like this
Beulah's
Miles Kurosky
and Bill Swan first started off as officemates, working the mail room at a security firm in their native San Francisco in 1994. While having a small dislike for one another,
Kurosky
and Swan did share a fondness for music. They two put their animosity aside in 1996 and spent the next year and a half mastering a lo-fi, indie rock style and recording songs. This resulted in the release of the A Small Cattle Drive in a Snow Storm 7" in 1997. Anne Mellinger joined the group in time to record the
Handsome Western States
EP for the celebrated Elephant 6 label that same year. By 1998, Beulah's rotating roster comprised
Kurosky
, Swan, Steve LaFolette, Pat Noel, Steve St. Cin, Bill Evans, and Ana Pitchon. Tours with
Neutral Milk Hotel
and
Apples in Stereo
brought Beulah to the indie forefront in both the U.S. and the U.K. Before the year's end, Beulah and eighteen additional musicians came together to record the band's second album.
When Your Heartstrings Break
, which was issued on Sugar Free to critical acclaim, featured strings, horns, and organs for the some of the band's brightest material. Two years later,
The Coast Is Never Clear
appeared and marked their first for Velocette. St. Cin and Pitchon departed by the beginning of the new millennium, and drummer Danny Sullivan, bass player Eli Crews, and keyboardist Pat Abernathy completed the Beulah line-up.
Yoko
, which showcased Kurosky's darkest work to date, arrived in September 2003. It was rumored at the time that Beulah would call it quits if sales didn't fare better than their previous releases combined, however they were quick to squash such gossip. The band moved ahead with successful tour runs through North America and Europe while critics touted
Yoko
as Beulah's best. Sadly, it wasn't enough for the family men of the band to keep it going. Beulah called it a day with a slew of stateside shows before closing the curtain August 5, 2004 at a free show at New York City's Battery Park. Their first ever concert DVD A Good Band is Easy to Kill was released the following summer. ~ MacKenzie Wilson, Rovi
full bio
Selected Discography
Similar Artists