We created Pandora to put the Music Genome Project directly in your hands
It's a new kind of radio –
stations that play only music you like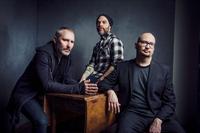 People who also like this
Are the Bad Plus a pop- and rock-influenced jazz trio? Or are they a power trio whose members like to play jazz? It's really a bit of both. But in the brave new world of postmodern jazz, identity crises are encouraged. Reid Anderson (bass) and
David King
(drums) grew up in Minnesota, while pianist
Ethan Iverson
spent his formative years in Wisconsin. Eventually, after crossing paths in such unlikely places as high-school rock showcases and tentative free jazz performances inside Upper Midwestern diners, the three first performed as the Bad Plus in 1990, but they would spend the '90s embracing separate influences, each musician developing a unique musical language that would gestate into the trio's iconoclastic jazz template. Anderson released three albums on the Spanish indie Fresh Sound;
Iverson
was music director of New York City's prestigious Mark Morris Dance Group, and
King
worked with his
Happy Apple
combo, as well as 12 Rods.
In August of 2001, the bandmembers put aside their other projects and released The Bad Plus through Fresh Sound. It established that the Bad Plus were unafraid to stray from the confines of jazz, but confident enough in their forays to make them stimulating, and not simply novelties. The debut was a critical success, garnering best-of honors from The New York Times and Chicago Reader, among others. An "official" bootleg followed in 2002, eventually going out of print.
It was a particularly memorable performance at New York's Village Vanguard that led Columbia Records to sign the Bad Plus; in February of 2003, the label released These Are the Vistas, which was produced by stranger-to-jazz and ex-
Latin Playboy
Tchad Blake. The album presented original compositions from each musician, as well as a few ringers from the musical world outside the borders of jazz. Their re-imaginations of "Smells Like Teen Spirit" (which
Iverson
had reportedly never heard before),
Blondie
's "Heart of Glass," and
Aphex Twin
's "Flim" caused tails to wag, but it was the Bad Plus' powerful mixture of personality and performance that really defined them.
The Bad Plus toured throughout spring and summer 2003 in support of their major-label debut. The band's second album, Give, followed in spring 2004. For 2005's Suspicious Activity?, the trio produced the album with Blake at RealWorld Studios in England. PROG followed in 2007. In 2009 the Bad Plus teamed up with vocalist
Wendy Lewis
, adding a new dimension to the sound of their sixth album, For All I Care. The following year they continued to shake things up, releasing Never Stop, the group's first album of all original material. After extensive touring and other projects, they recorded another collection of all-original material, Made Possible; it was released in September of 2012. After extensive touring and some side projects by the bandmembers, the Bad Plus returned to the studio and recorded their own version of
Igor Stravinsky
's ballet The Rite of Spring. It was released by Sony Masterworks in March of 2014, followed by Inevitable Western, a collection of original material, issued in August. ~ Johnny Loftus
full bio
Selected Discography
Similar Artists