We created Pandora to put the Music Genome Project directly in your hands
It's a new kind of radio –
stations that play only music you like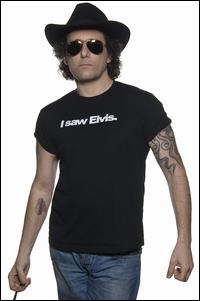 People who also like this
Andres Calamaro is one of the most popular Argentinean pop/rock songwriters, and considers himself a song craftsman. Born in 1961, he began his professional musical career at the age of 17 playing keyboards in Raíces. In 1981 he joined one of the main bands of the '80s Argentinean rock scene: Los Abuelos de la Nada. Although the band was led by the brilliant Miguel Abuelo, Calamaro composed most of the group's hits, such as "Mil Horas," "Así Es el Calor," "Sin Gamulán," and "Costumbres Argentinas." In 1984 he made his solo debut with Hotel Calamaro. The album was a bizarre mix of styles and musicians, and it didn't gain much public or press support. In 1985, Calamaro left los Abuelos de la Nada and recorded his second album, Vida Cruel. Despite the presence of important musicians and guests such as
Luis Alberto Spinetta
and
Charly García
, the album was a disappointment both commercially and artistically. Although Calamaro appeared to be out of luck as a songwriter, he had an intense and successful run as a producer for bands like
los Enanitos Verdes
,
los Fabulosos Cadillacs
, and Don Cornelio y la Zona. He also worked and collaborated with many artists of different styles and genres, a constant goal throughout his whole career. Calamaro's third album, Por Mirarte, found him in better form fronting an established band. Released in 1988, it contains some outstanding songs such as "Con los Dientes Apretados" and "Me Olvidé de los Demás," while other songs like "Cartas Sin Marcar" and "Loco por Tí" helped the album gain popularity.
When Calamaro released
Nadie Sale Vivo de Aquí
in 1989, Argentina was struggling in the midst of a difficult economic crisis; consequently, few albums were released, and the production of
Nadie Sale
suffered. Calamaro left Argentina and settled in Spain, following a road taken by many Argentinean rockers. There he met Ariel Rot and Julian Infante, former members of Tequila. They formed
los Rodríguez
in 1991, a pop/rock band that was very popular in Spain and Latin America. Calamaro's songs began to be popular in the early '80s, and the hitmaker was back on the road again. Curiously, working from Spain, he was conquering Argentina. While performing with
los Rodríguez
, he didn't released any new solo material, just Grabaciones Encontradas, Vols. 1 & 2, a couple of CDs that contained unreleased and rare material from the '80s. After
los Rodríguez
split, Calamaro returned to his solo career, recording
Alta Suciedad
in 1997, an album produced by Joe Blaney.
Alta Suciedad
brought him the commercial success that had previously eluded his solo endeavors, and it sold 300,000 copies in Argentina alone, certainly a huge number considering that country's small market. No doubt,
Alta Suciedad
put him in the big leagues, alongside other Latin legends on the national rock scene. Before that album, Calamaro was considered an important character, appreciated by the other musicians, but not by the popular culture at large. After breaking up with his Spanish girlfriend, he released the double-CD
Honestidad Brutal
in 1999. Recorded when he was 37, it contained 37 songs of despair, love lost, drugs, and regret. It was not as successful as the previous album, but showed a new Calamaro: desperate, decadent, and often elegant at the same time, with a new and raw lyrical approach. El Salmon followed in spring 2001. Throughout 2001 and 2002, Calamaro released a number of free downloads, as well as giving fans permission to remaster his works. He returned to the studio for
El Cantante
in 2004 and released a live album,
El Regreso
, the following year. His next studio album was
La Lengua Popular
, released in 2007. The following year, Calamaro released live album Dos son Multitud, which was recorded in Getafe, Spain with Fito & Fitipaldis. Nada se Pierde followed in 2009 before the singer released On the Rock, his twentieth studio album, in 2010. ~ Iván Adaime, Rovi
full bio
Selected Discography
Similar Artists