We created Pandora to put the Music Genome Project directly in your hands
It's a new kind of radio –
stations that play only music you like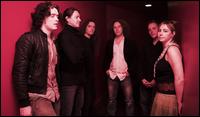 People who also like this
While
Paradise Lost
and
My Dying Bride
got more attention from underground doom metal fans, Liverpool natives Anathema were just as important in creating a new strain of doom (sometimes referred to as doom/death) that drew heavily from atmospheric goth metal and, in the early days, featured gruff death-style vocals. Guitar-playing brothers Vincent and Danny Cavanagh formed Anathema in 1990 with vocalist Darren White, bassist Duncan Patterson, and drummer John Douglas, and originally called themselves Pagan Angel. As Anathema, the band recorded a
Black Sabbath
/
Paradise Lost
-inspired demo titled An Iliad of Woes; another demo, 1991's All Faith Is Lost, and a Swiss single called "They Die" landed the group a deal with Peaceville Records. Anathema's first official recording, an EP titled
The Crestfallen
, was released in 1992, and followed the next year by the full-length
Serenades
, the most traditional doom-styled album in their catalog. After a tour, the group re-entered the studio in 1994 to record Pentecost III, a five-song mini-album that nonetheless ended up long enough to have qualified as a full-length. Delays prevented its release until the following year, by which time the group was already working on its next album. However, after recording had begun, Darren White left the group to form the Blood Divine, taking with him their sound's main connection to death metal. Vincent Cavanagh assumed lead vocal duties, with a cleaner, more accessible style that fit the newly atmospheric direction of the finished album. The Silent Enigma was released in late 1995, and began to establish Anathema as a unique presence on the underground doom scene. That impression was confirmed by their next release, 1996's heavily gothic
Eternity
, which featured contributions from
Cradle of Filth
keyboardist Les Smith. Stretching its songs into sorrowful, orchestrated epics,
Eternity
's
Pink Floyd
-ish spaciness alienated some fans of Anathema's older sound at first, but quickly proved to be their most original work to date. Drummer Douglas left the group in late 1997, and ex-Solstice drummer Shaun Steels joined the following year. Alternative 4 was released in the summer of 1998, taking a simpler, subtler, and more polished approach than its predecessor; shortly afterward, bassist Patterson left and was replaced by Dave Pybus. In 1999, original drummer John Douglas rejoined, and the group switched to the Music for Nations label. The well-received Judgement album was issued later that year, marking a complete departure from metal, though the themes in their songs remained gloomy while taking on an air of existential despair. Later in the year, keyboardist Martin Powell and
Cradle of Filth
's keyboardist Les Smith traded bands; Smith became an integral part of Anathema's sound.
The band underwent more changes as the new century began. Just before the release of 2001's
A Fine Day to Exit
, studio bassist Pybus left to join
Cradle of Filth
as well. He was replaced by touring bassist George Roberts and later by Jamie Cavanagh. David Cavanagh left the band for a year in 2002, but returned for 2003's deeply atmospheric, nearly prog rock
A Natural Disaster
. Music for Nations closed after its distributor's acquisition by Sony/BMG, and Anathema found itself without a label. They continued to tour and release tracks on their website via the "pay-what-you-think-it's-worth" model established by
Radiohead
. They eventually signed to the Snapper subsidiary KScope, and issued a collection of acoustic re-recordings of catalog items titled Hindsight. It was followed in 2010 by
We're Here Because We're Here
and
Falling Deeper
in 2011. The band's ninth album,
Weather Systems
, was recorded in Liverpool, North Wales, and Oslo. It was produced by the Cavanagh brothers and Norway's Christer-André Cederberg, and released in 2012. ~ Steve Huey, Rovi
full bio
Selected Discography
Similar Artists