Free personalized radio that
plays the music you love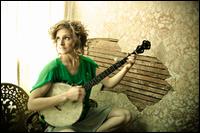 People who also like this
Abigail Washburn & The Sparrow Quartet
The rustic, wide-ranging sounds of singer/songwriter Abigail Washburn appear so genuine and natural, they must come from a person who grew up surrounded by folk and bluegrass. The way Washburn developed her style is much more complicated, however, as it involves China, lost banjos, and the rock group
Collective Soul
. Although Washburn grew up singing, she had no desire to become a professional musician, and part-time gigs as a backup vocalist in reggae, gospel, and R&B bands were nothing more than fun activities. But a trip to China in 1996 changed all that. Picking up the native language faster than she imagined and falling in love with Chinese culture, the young Washburn began to change her priorities. Reconsidering the culture of her own homeland, she bought a banjo and decided to explore the rich heritage of folk and bluegrass music. Mastery of the instrument didn't happen right away, and fans of Washburn's banjo style might be shocked to learn she went years without even touching the instrument. Later, she was living in Vermont and working as an activist when her good friends the Cleary Bros. Band lost their banjo player after scheduling a tour of Alaska. Blowing the dust off her banjo, Washburn began a crash course in playing the instrument, eventually joined the Cleary Bros. Band, and was soon off on her first tour.
Performing in front of an audience fit like a glove, and soon Washburn was assuming lead vocals as well. With the tour completed, Nashville was the budding musician's next stop. While living there, she continued her banjo studies and began to write songs. In 2004, she met Jingli Jurca, who would help her write her first song in Chinese, as well as K.C. Groves, a founding member of the old-timey string band
Uncle Earl
. Washburn joined the second incarnation of
Uncle Earl
and appeared on the band's 2005 album, She Waits for Night. Keeping her solo options open, Washburn then entered her song "Rockabye Dixie" into the Chris Austin Songwriting Contest at MerleFest. The tune took second place and attracted the attention of Nettwerk Records. After signing with the label, Washburn played a mini-tour of China before returning home to record her debut with such accomplished musicians as
Béla Fleck
, Jordan McConnell of
the Duhks
, and Ryan Hoyle of
Collective Soul
. The resulting Song of the Traveling Daughter appeared in 2005, and Washburn returned to the Asian continent to tour as part of the Sparrow Quartet (which also comprised
Fleck
, fiddle virtuoso
Casey Driessen
, and cellist
Ben Sollee
). The U.S. government sponsored the tour, making Washburn the first musical artist to receive such an honor. The Sparrow Quartet joined her on the trip, and the group explored a blend of Eastern and Western folk traditions on their 2008 effort, Abigail Washburn & the Sparrow Quartet. In January of 2011, Washburn released her third effort, issued on Rounder; entitled City of Refuge, it was produced by Tucker Martine (who also played drums on the set). It featured a slew of guests including
Bill Frisell
,
Jeremy Kittel
,
Viktor Krauss
, and Kenny Malone.
After a global tour and the birth of her son, she and
Fleck
(her husband) were finally able to realize a long-held dream: to record a collaborative album. The self-titled set contained originals, traditional songs, and a thorough reimagining of Béla Bartok through a medley comprised of two sections of the composer's For Children and Children's Dance. The album was released by Rounder in October of 2014. ~ David Jeffries, Rovi
full bio
Selected Discography
x
Track List:
Shanghai Restoration Project Remixes
Similar Artists
Don't have a Pandora account? Sign up
Already have a Pandora account? Log In