Free personalized radio that
plays the music you love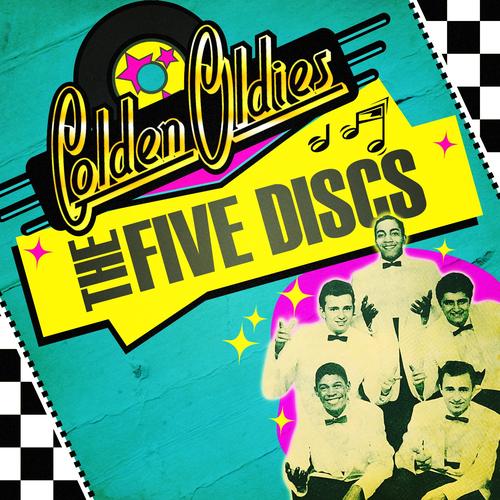 People who also like this
Like many street-corner vocal groups who came from Brooklyn's Bed-Stuy section in the early '50s, the Five Discs had limited chart success ("Never Let You Go" instantly won Murray the K's Record of the Night and Record of the Week contests on WINS and charted at number 28 on the local New York charts, but not nationally). Their career was unfortunately mired by a series of revolving-door personnel changes, poor label promotion of their singles, and bad luck, but they managed to last for four decades and outlive many of their more successful neighborhood contemporaries.
In 1954, lead vocalist Mario DeAndrade and Andy Jackson (bass) -- both formerly of the Lovenotes -- joined up with Joe Barsalona (baritone), Paul Albano (first tenor), Tony Basile (second tenor), and Joe Brocco to form a new group, calling themselves
the Flames
. Albano's brother, Joe, an ambulance driver by profession, became their manager.
On Valentine's Day 1956,
the Flames
appeared on their first show with the local acts the Royaltones and
the Paragons
, but it wasn't until 1957 that they would cut their first demo. Barsalona then took the demo into Manhattan, going to all the record companies with offices at 1650 and 1674 Broadway (including Hull, Hy Weiss's Old Town, and George Goldner's Gone), each of whom ultimately turned down an offer to release the recording.
A songwriter named
Billy Martin
eventually heard the demo and recommended they re-cut it. He played their new version for Gene Schwartz, who later offered them a contract for the Emge label. At the suggestion of Albano's sister, they changed their name from
the Flames
to the Five Discs. In early 1958, the group recorded "I Remember" for a third time. The single on Emge was debuted on WMGM and ultimately climbed up to number 28 on the New York charts and number two in Boston.
Soon afterwards, Schwartz launched his Laurie Records, scoring an immediate hit with Dion & the Belmonts' "I Wonder Why." Because he was busy with its promotion, the Five Discs single failed to get promoted. At the insistence of the group, Schwartz leased it to RCA's Vik label, but that label shortly thereafter went bankrupt and the single failed to connect. (In 1961, Rust Records -- a subsidiary of Laurie -- released the record for a third time.) Eventually, they provided backup vocal work for other Emge acts, but received no label credit for either.
In 1959, Martin, attorney Jack Astor, and Jack Levinthal (a soda salesman), formed Dwain Records. Levinthal's son lived a few houses down from Joe Barsalona, who raved to his father about the group's talents. Eager to move on, the Five Discs signed with the new label and cut two sides. Due to a poor mixing job, however, the group was forced to re-do the songs again. (The flawed first release with the orange label was immediately pulled from circulation and replaced with Dwain 803, which had a green label. This accounts for the extreme rarity of the first Dwain release which today commands as much as 1000 dollars on the collector's market.) Unfortunately, neither version received any airplay.
By 1960, DeAndrade was married and decided to leave the group, as did his friend, Andy Jackson; Lenny Hutter (who was from the Bushwick section of Brooklyn and formerly of the Chalets) and local singer John Russell came aboard as their replacements. They changed management and signed with a new label, Yale Records. The Five Discs released several singles, none of which connected them with a larger audience.
By 1961, John Carbone had replaced Hutter and another label became interested in the group: Andy Leonetti's Tap Records, releasing a single on the Calo subsidiary. It, too, failed to sell. Soon, Russell was out and Charlie DiBella -- originally with the DelVons from the East New York section of Brooklyn -- was in. The newly configured Five Discs recorded a single for Cheer Records, but soon Carbone was leaving the group. His replacement was Eddie Pardocchi, (a former member of the DelVons and the Darcels. This single, "Never Let You Go," won Murray the K's Record of the Night and Record of the Week contests on WINS in New York City. By the following week, it was number 28 on the local charts.
In 1963, with Herb Kessler now acting as their manager, the Five Discs signed with Kapp Records and recorded three tracks. Once again, with a new label and new manager, came a name change, this time to the Boyfriends, but once again, they failed to connect. In 1964, two of the original members -- Paul Albano and Tony Basile -- and a third, more-recent member, Charlie DiBella, decided to call it quits.
The rest of the Boyfriends re-formed with lead vocalist Eddie Pardocchi (lead), first tenor Donnie LaRuffa (from the Darcels), and second tenor Frank Arrione. By 1968, they were signing with Rust Records, but each of the new lineup's recordings failed to find its audience. In 1972, the Five Discs were back again with Pardocchi, Barsalona, Arnone, Albano, and DiBella, but right after their first show, Albano dropped out (again) and LaRuffa replaced him (again). Soon DiBella was leaving too, replaced by Mike Strippoli. Once again, they signed with Laurie, issuing a handful of singles before ultimately calling it quits for good.
For a time, Eddie Pardocchi performed with the Impalas before he rejoined his old DelVons singing partner Vito Balsamo in Vito & the Salutations. Around 1980, the Five Discs reunited with Pardocchi, Barsalona, Albano, Strippoli, and Shelly Buchansky. This group made numerous appearances, but broke up in 1982.
In 1990, Pardocchi returned with a lineup that featured Albano, Barsalona, Strippoli, and newcomer Jack Scandura (second tenor, who had sung with Ricky and the Hallmarks on Amy Records and with the Uniques on Roulette Records). In the 1970s and 1980s, Pardocchi sang with two a cappella groups, the Blendaires and the Blue Stars. Joe Barcelona passed away in 1994 shortly after his last appearance onstage at a UGHA concert. ~ Bryan Thomas
full bio
Selected Discography
Similar Artists
Don't have a Pandora account? Sign up
Already have a Pandora account? Log In