We created Pandora to put the Music Genome Project directly in your hands
It's a new kind of radio –
stations that play only music you like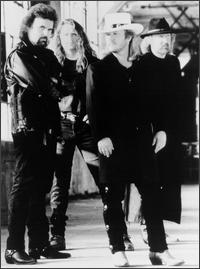 People who also like this
Initially, .38 Special were one of many Southern rock bands in the vein of
the Allman Brothers
and
Lynyrd Skynyrd
; in fact, the band was led by Donnie Van Zant, the brother of
Skynyrd
's leader, Ronnie Van Zant. After releasing a couple of albums of straight-ahead Southern boogie, the band revamped its sound to fall halfway between country-fried blues-rock and driving, arena-ready hard rock. The result was a string of hit albums and singles in the early '80s, highlighted by "Caught Up in You," "If I'd Been the One," "Back Where You Belong," and "Like No Other Night." .38 Special's popularity dipped in the late '80s as MTV-sponsored pop and heavy metal cut into their audience. Though the band had its biggest hit in 1989 with the ballad "Second Chance," it proved to be their last gasp -- they faded away in the early '90s, retiring to the oldies circuit.
Donnie Van Zant (vocals) formed the Jacksonville, FL-based .38 Special in 1975 with Jeff Carlisi (guitar), Don Barnes (guitar, vocals), Ken Lyons (bass), Jack Grondin (drums), and Steve Brookins (drums). Two years later, the band signed with A&M Records and released its eponymous debut. Neither 38 Special or its follow-up, Special Delivery, received much attention, but the group began to build up a following through its constant touring. Bassist Lyons left before the recording of 1979's
Rockin' Into the Night
, the album that demonstrated a more melodic, driving sound; he was replaced by Larry Junstrom.
Rockin' Into the Night
became a moderate hit, but 1981's
Wild-Eyed Southern Boys
was a genuine hit, going platinum and generating the Top 40 "Hold On Loosely."
Special Forces
, released in 1982, was even more popular, spawning the Top Ten single "Caught Up in You." Tour de Force (1983) and
Strength in Numbers
(1986) were both successes, and the band continued to be a popular touring outfit. Barnes and Brookins left in 1987; Barnes was replaced by Danny Chauncey.
While
Strength in Numbers
had been popular, it didn't stay on the charts as long as its predecessors.
Flashback
, the 1987 greatest-hits album, was moderately successful, but the band took precautions to retain its audience by recording the polished
Rock & Roll Strategy
. Released in 1989, the album slowly became a hit on the strength of "Second Chance," an adult contemporary-oriented ballad that reached the Top Ten.
Rock & Roll Strategy
became the band's final big hit. Barnes returned to the band in 1991 and the group added drummer Scott Hoffman and keyboardist Bobby Capps. Even with the extensive retooling and the support of a new label, Charisma, 1991's
Bone Against Steel
failed to gain much attention. .38 Special didn't release another album for six years. In the summer of 1997, they released a comeback effort titled Resolution on Razor & Tie Records. Live at Sturgis followed on CMC in 1999. ~ Stephen Thomas Erlewine, Rovi
full bio
Selected Discography
Similar Artists